Chris Froome's early Kenyan mentor David Kinjah visits UK to ride Tour of Wessex
David Kinjah visits the UK from Kenya to launch his inspirational Safari Simbaz charity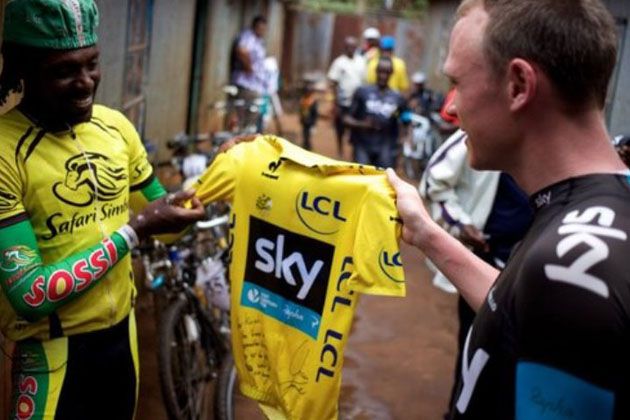 Chris Froome has often attributed David Kinjah as the person who most influenced his cycling in his early days in Kenya. Kinjah will be visiting the UK during May to ride in the three-day Tour of Wessex sportive and launch his cycling charity in Britain.
Kinjah is a well-known and successful racing cyclist in his home nation, and used to take the teenaged Froome on training rides and encourage his development.
Of course, we know how the story turned out - Froome went on to win three editions of the Tour de France and establish himself as one of the world's leading riders.
Kinjah runs a charity in Kenya, Safari Simbaz, which helps young people from disadvantaged communities in Kenya to get involved with cycling, giving them new skills, build self esteem and present new opportunities.
>>> Chris Froome: 'I don't need the reassurance of winning. I've got the reassurance of three Tour victories'
"I've met youngsters who are inspired to study by being able to cycle to school rather than having to walk or run 15 km, that sort of thing makes all the effort worthwhile," said Kinjah.
"We hope we will fire up every school kid about what we are doing and what ultimately we can all achieve if we just set our minds to it. We're going to invite everyone at the Tour of Wessex to join our adventure in this. Both as the Captain of the Kenyan National Cycling Team and as the founder of the Safari Simbaz, I can't think of anything better."
Froome still donates kit to the charity, which is then passed on to up-and-coming riders.
The 2017 Tour of Wessex takes place over May 27-29, featuring three days of riding in the west country totalling a maximum of 322 miles. More details and online entry can be found on the Tour of Wessex website.
The Safari Simbaz Charity Trust (Europe) will be the event's official charity partner.