Chris Horner without a team due to 'sponsor pressure'
Lampre-Merida team manager Brent Copeland says Horner was not offered a new contract because of 'sponsor pressure'.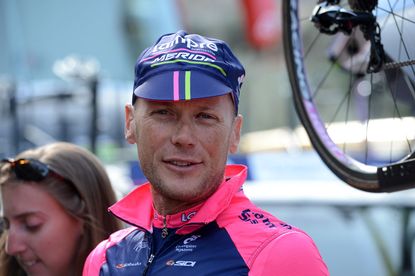 (Image credit: Andy Jones)
Chris Horner is currently without a team for the 2015 season despite Lampre-Merida team manager Brent Copeland, Horner and his agent all willing for the former Vuelta a Espana winner to stay on at the Italian team.
"I would have liked to have kept him on board but obviously we have various sponsors who we have to keep happy and various requests from them for riders they want," Copeland told Cyclingnews.
"It wasn't that there were sponsors pushing not to take Chris. It's just that there were sponsors pushing for riders from their territories, like Taiwan and China."
Copeland defended the decision, adding: "We have to look at a number of aspects including the economical side, and the talent of riders within certain territories."
Horner has suffered an incident prone season, which is likely to be the main reason behind his lack of a team for 2015.
The 42-year-old American rider was unable to defend his 2013 Vuelta win this season due to low cortisol levels, but at the time his agent Baden Cooke was sure of brokering a new contract.
Copeland is still confident Horner is capable of riding at the highest level.
"I still think that Chris can ride a Grand Tour and go for a top ten...It's a real pity because of the sacrifices he's put into his work and the talent that he has."
Lampre-Merida said in a statement: "In 2014 Horner had to face many unfortunate incidents, the most unfortunate being the terrible crash during training before the Giro d'Italia.
"Chris was not fortunate enough to demonstrate his true potential. Lampre-Merida would like to show their appreciation to Horner for his proactive attitude, his passion for cycling, sacrifices and efforts he made for the team during the 2014 season.
"Team Lampre-Merida wish Chris all the best for his future. It would have been great for the team and Chris to have crossed paths earlier on in his career in order to have had a longer relationship."
Source: CyclingNews
Defending champion Chris Horner withdrawn by Lampre-Merida team after cortisone treatment for bronchitis
American Chris Horner makes 2014 season debut for Lampre-Merida at the Challenge Mallorca
Vuelta a Espana winner Chris Horner inks deal with the Lampre-Merida team, keeping him in the WorldTour for 2014
Thank you for reading 20 articles this month* Join now for unlimited access
Enjoy your first month for just £1 / $1 / €1
*Read 5 free articles per month without a subscription
Join now for unlimited access
Try first month for just £1 / $1 / €1