Chris Hoy forced to pull out of Commonwealth Games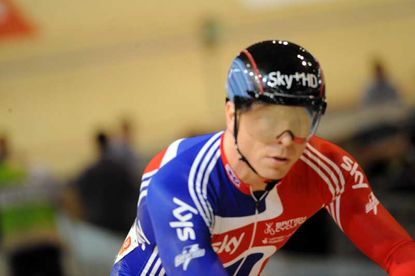 Four-time Olympic Champion Sir Chris Hoy will not be wearing Scottish colours at the Commonwealth Games. The Scottish cyclist has been forced to withdraw from the games that are to be held in Delhi this October.



A potential clash of events on the cycling calendar has forced Hoy to prioritise the European Championships, which carries qualification points for the London Olympics in 2012. Although the Union Cycliste Internationale (UCI) has still to announce the exact dates, Sir Chris Hoy's decision to clear his calendar is an indication that the European Championships and Olympic qualification are his primary focus.
Hoy's absence will be a significant blow to the Scottish team. As well as being a prime medal contender, Hoy has been commended for his inspirational role within the squad. The Scottish team will be losing their leading man and Hoy will have to forgo his one chance in the racing calendar to pull on a Scottish jersey.
In an interview with The Scotsman a disappointed Hoy commented; "It's a decision that's been forced on me by the nature of the qualification process for the London Olympics." In the run up to the Olympics, qualifying events such as the European Championships must be Hoy's priority. Athletes cannot afford to under-perform at point-scoring events and therefore Hoy's focus must be preparation for the European Championships.
Hoy has received absolute support from the British Cycling performance director Dave Brailsford. Brailsford told The Scotsman; "This new European championship will affect everybody with Olympic ambitions". This problem of prioritization is a potential worry for many athletes, including Victoria Pendleton, who has also indicated a number of concerns regarding scheduling complications.
The European Championships were previously an U23 event but when the UCI changed the Olympic qualifications system a senior European event was added to the calendar.
The Olympics are the main focus of all top-level athletes and ultimately a disappointed Chris Hoy had his hand forced. He told the Guardian that "It's with great sadness and reluctance that I've had to tell the Scottish team that I won't be seeking selection for the Delhi games. But it wasn't a decision I had to make in the end".
RELATED LINKS
Wiggins to race Commonwealth Games
Millar's Commonwealth Games ban lifted
Chris Hoy wins his 10th rainbow jersey
Thank you for reading 20 articles this month* Join now for unlimited access
Enjoy your first month for just £1 / $1 / €1
*Read 5 free articles per month without a subscription
Join now for unlimited access
Try first month for just £1 / $1 / €1