Clancy philosophical in defeat as Team Pursuit ramps up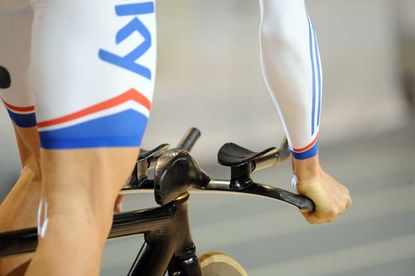 Great Britain got to within two-and-a-half seconds of the world team pursuit record in Copenhagen last night, but it wasn't enough to sweeten the bitter pill of defeat.


For all the team's talk of focusing on London, and process over outcome, the riders still reel in defeat. Speaking after winning the silver medal in one of the most thrilling team pursuit races in years, Ed Clancy couldn't hide his disappointment. "As soon as you see you finished second....... argh, we're used to winning in team GB and people expect us to win, and anything other than a win always seems like a bit of a disappointment," he said.
"We knew the Aussies were coming strong at the moment, they've got a good bunch of young lads. I guess they just did us on the day. We can't be disappointed with our ride."
"We went great in qualifying. I think that was the fastest we ever went and in the final we went better, but fair play to the Aussies, they had us on the day."
In winning the gold the young Australian team rode faster than they had since the Athens Olympics in 2004. "We haven't even gone close to that time since Athens, so to come out and ride that, is fantastic," said Australia's Jack Bobridge.
"Since Beijing, we were posting '58s and haven't been able to crack that. That was absolutely everything we had, we can't explain how happy we are."
The British team can take comfort in the fact that yesterday's final wasn't a demonstration in everything they have. Both Geraint Thomas and Bradley Wiggins are missing from the track team as they focus on the road.
The intervening years between Games are used to bring on the young riders but the experienced hands are always in the background. The re-emergance of the Aussies prove they might be needed. Either way, the team pursuit is once again making for thrilling viewing.
Australia Great Britain
1km 1:02.819 1:03.291
2km 57.011 57.168
3km 57.578 57.168
4km 58.246 57.949
Time 3:55.654 3:55.806
Thank you for reading 5 articles this month* Join now for unlimited access
Enjoy your first month for just £1 / $1 / €1
*Read 5 free articles per month without a subscription
Join now for unlimited access
Try first month for just £1 / $1 / €1