COOKE BLASTS TO BRONZE IN WORLD CHAMPS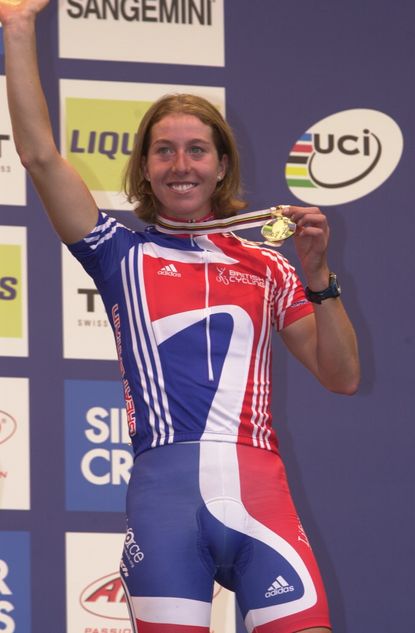 After bronze in Hamilton and silver in Madrid, for the third time since 2003, Nicole Cooke stood on the podium of a World Championships event when she finished third in the women?s road-race behind 19-year-old Dutchwoman Marianne Vos.
Second behind Vos was German Trixi Worrack, whilst Cooke just squeaked ahead of the Italian Noeli Cantele for fourth in the lead group of some 15 riders.
?I?m more than happy with this.? Cooke, the first Briton to secure a medal in the 2006 World?s, said afterwards. ?I helped shape events right the way through the race.?
Clearly one of the strongest riders in the 132.2 kilometre course, Cooke had her team-mate Rachel Heale force the pace with one and a half laps to go. That charge, which was then followed by Switzerland?s Nicole Brandli, effectively split the field, forming the group of 15 at the front.
Constantly forcing the pace, and chasing down moves, Cooke responded to a dangerous attack by Vos and Germany?s Judith Arndt as they raced through the start/finish for the last time, led on the first climb and then went clear with Brandli and Vos on the second.
For some eight kilometres this looked like a break made in heaven, with medals guaranteed for all three riders, but Germany - with three riders in the chasing group - were able to pull Cooke, Vos and a barely cooperative Brandli back as they hit the suburbs of Salzburg. A bunch sprint, albeit between the 15 ahead, was now more than on the cards.
Cooke tried her best, responding to a late attack by Theresa Senff of Germany, but there was no answering Vos amazingly powerful sprint up the left-hand side of the road.
Whilst Worrack was a clear second, there were an agonising few minutes for British fans until judges confirmed that Cooke had indeed made third, albeit by less than a tyre?s width.
As for Vos, even at 19 she is already a major success story in cycling: she is already World Cyclo-Cross Champion, European Road Champion and Dutch National Champion. After Saturday she now has another rainbow jersey for her collection.
Thank you for reading 20 articles this month* Join now for unlimited access
Enjoy your first month for just £1 / $1 / €1
*Read 5 free articles per month without a subscription
Join now for unlimited access
Try first month for just £1 / $1 / €1