Cooke's Vision 1 team finds sponsor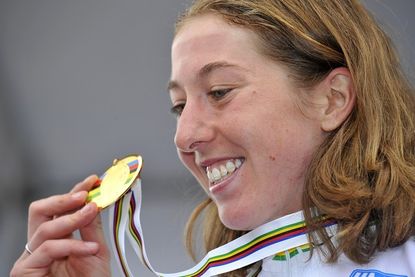 Nicole Cooke's Vision 1 racing team has today announced the addition of British company Maxgear.co.uk as equipment sponsor.
The Vision 1 squad was conceived in October last year, and is centred around the 2008 Olympic and World Champion Cooke. Despite the obvious attraction of having the high profile double champion on its roster, the squad had failed to attract a big title sponsor.
The addition of Maxgear as sponsor is good news for the squad, who have already achieved a string of results this season. Top of the list has to be Helen Wyman and Gabby Day scoring a one-two in the National Cyclo-Cross Championships in January.
"I'm really excited about the opportunity to work with Maxgear," Vision 1 team manager Stefan Wyman said. "They're extremely forward thinking and are very interested in our input into product development and their range."
Maxgear.co.uk is based in the North West of England and is an internet-only business that aims to provide quality, own-brand cycling equipment at affordable prices. The range is due to be launched in April 2009. They also provide sponsorship for the Belgian/Irish Sean Kelly-AN Post team.
Although the Vision 1 team features riders of the proven calibre of Cooke, Day and Wyman, it also has a strong interest in developing young riders. As such, the squad has several young international riders who will be riding alongside the more experienced team members throughout 2009.
RELATED LINKS
Nicole Cooke: Rider Profile
Helen Wyman: Rider Profile
A great start for Vision 1 Racing
Vision 1 team taking shape
EXTERNAL LINKS
Maxgear: www.maxgear.co.uk
Vision 1 Racing: www.vision1racing.com
Nicole Cooke: www.nicolecooke.com
Thank you for reading 20 articles this month* Join now for unlimited access
Enjoy your first month for just £1 / $1 / €1
*Read 5 free articles per month without a subscription
Join now for unlimited access
Try first month for just £1 / $1 / €1