DHL SPRINT SCHOOL: BACK FOR SEASON 2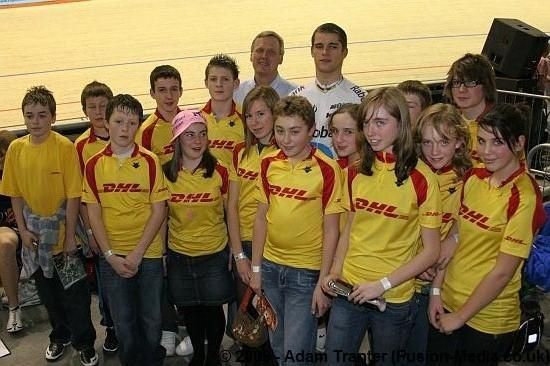 Following the success of the first season of Sprint School, the DHL sponsored schools will be returning to Newport for a second year.
As well as gaining confidence and invaluable tips, techniques and advice over last season?s schools many of the youngsters have gone on to compete at the Revolution events as Future Stars and several have been selected to join the prestigious British Cycling Talent Team.
With the World Track Championships taking place in Manchester in little over a month, selection for the team is currently underway and it?s a very exciting time for Sprinting. With a fantastic selection of established riders and some serious up and coming talent, Great Britain is looking likely to win a host of medals. Young guns like Jason Kenny are paving the way for a new generation of riders, British sprinting has never been hotter.
The addition of three more Track Leagues ? Carmarthen, Herne Hill, West Riding ? will allow an even wider selection of young cyclists to come from across the UK to the DHL Sprint Schools at the Newport Velodrome in 2008 to meet the stars and train with the Talent Team coaches.
The list now of 18 track leagues sending in nominations also includes: Brighton, Bristol, Calshot, Cardiff, Dundee, Edinburgh, Forest Town, Halesowen, Kirkby, Manchester ACT, Manchester Friday, Newcastle-under-lyme, Newport, Reading, Scunthorpe, Solihull, Welwyn and Wolverhampton.
British Cycling?s Talent Team Development Coach, Tim Buckle will be taking over the reins from Gary Coltman and has put together a fantastic programme including 200m Time Trials, Match Sprinting and Keirin Racing.
The Schools aims to teach youngsters the skills and techniques they?ll need to progress as track sprinters in a fun and enjoyable environment mixing track time with class room sessions and the ever popular off bike games. Tim?s thrilled to take over the project, he said, ?I feel the pressure?s on after the fantastic work Gary and the coaches did last year. I?ve got a lot to live up to and I?m really looking forward to getting involved.?
The Schools will take place between February and September: 29th February, 4th April, 30th May, 13th June, 18th July and 5th September and will culminate with a Sprint School competition at Future Revolution in the autumn 2008.
EXTERNAL LINKS
DHL Sprint School: www.sprintschool.com
Future Revolution: www.futurerevolution.co.uk