Di Luca: 'I can't explain Giro positives'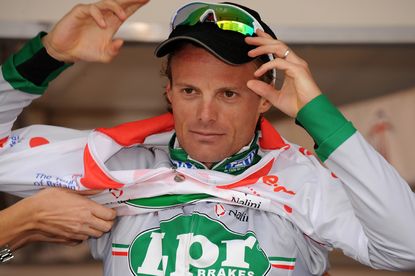 Danilo Di Luca has claimed that he has no idea how he tested positive for banned blood-boosting drug CERA at the Giro d'Italia in May, and says he may be the victim of a conspiracy.
Di Luca returned two positive test results for the drug during the Giro, during which he won two stages of the race and placed second overall.
The Italian was present at a hearing on Wednesday held by the Italian Olympic Committee (CONI) in Rome when he said "I can't explain the two positive tests at the Giro. I'm not ruling out a conspiracy."
"My lawyers and I have some serious doubts about the method used in the doping tests which have produced positive results," Di Luca continued, according to news agency AFP.
"I would have to be a man without a brain to have used Cera, which stays in the blood and urine for a month, especially during the Giro."
CONI have given Di Luca a further month for the hearing into his case.
The LPR Brakes rider is currently suspended from competition pending results of the investigation into the positive test results. If ultimately found guilty, he could face a suspension of up to four years since he has been previously suspended in relation to doping investigations.
Related links
Di Luca grilled by Italian Olympic Committee over doping
Di Luca positive for EPO at the Giro d'Italia
Thank you for reading 5 articles this month* Join now for unlimited access
Enjoy your first month for just £1 / $1 / €1
*Read 5 free articles per month without a subscription
Join now for unlimited access
Try first month for just £1 / $1 / €1