DOBBIN WINS NATIONAL HILL-CLIMB CHAMPS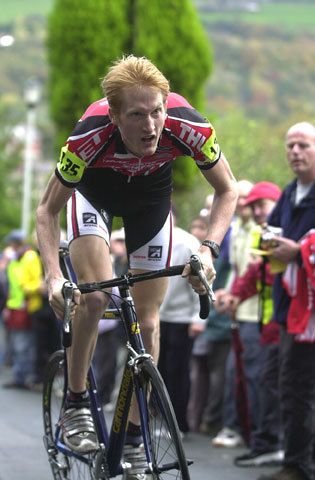 Click here to view a gallery of photos from the 2007 National Hill-Climb Championships by Andy Jones
James Dobbin (Arctic Shorter Rochford RT) won the National Hill-Climb Championship at Cheddar Gorge, Somerset, on Sunday.
Using his local knowledge to good effect Dobbin, who lives around 20 miles away from the course, clocked 6-51.5 to beat rival David Clarke (Blue Sky Cycles) from Derbyshire into second by 6.1 seconds, while Mike Vaughan cycles rider Matt Clinton, from Coventry, was third.
The 2.1-mile course was more suited to Dobbin while Clarke, who favours shorter courses, struggled towards the end.
As well as winning the solo event, Dobbin also led the Arctic Shorter Rochford RT to the team prize alongside Danny Axford, sixth with 7-12.6, and Peter Bissell with 7-37.4.
Caroline Kloiber (Chirio Foron D'Asolo) was fastest woman with 8-00.3, while Blackburn and District CTC's Adam Pinder was best junior with 7-27.1.
National Hill-Climb Championship.-
1 James Dobbin (Arctic Shorter Rochford RT) 6-51.5
2 David Clarke (Blue Sky Cycles) 6-57.6
3 Matt Clinton (Mike Vaugham Cycles) 7-08.5
4 Jim Henderson (Southport CC) 7-10.3
5 Geoff Beetham (Retro Bikes) 7-11.7
6 Danny Axford (Arctic Shorter Rochford RT) 7-12.6
Team.- Arctic Shorter Rochford (Dobbin, Axford, Peter Bissell 7-37.4) 21-41.5. Women.- Caroline Kloiber (Chirio Foron D'Asolo) 8-00.3. Juniors.- Adam Pinder (Blackburn & Dist CTC) 7-27.1
RELATED LINKS
Click here to view a gallery of photos from the 2007 National Hill-Climb Championships by Andy Jones
Thank you for reading 20 articles this month* Join now for unlimited access
Enjoy your first month for just £1 / $1 / €1
*Read 5 free articles per month without a subscription
Join now for unlimited access
Try first month for just £1 / $1 / €1