Drunk riders sent home from regional games after arguing with officials on night out after opening ceremony
Three Ecuadorian riders, including Movistar man Richard Carapaz, sent packing from Bolivarian Games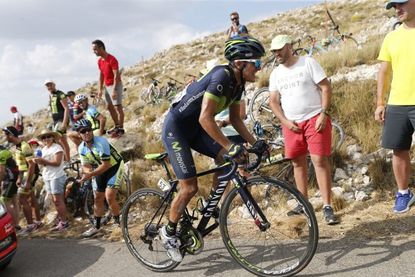 (Image credit: Yuzuru Sunada)
The Ecuadorian Olympic Committee (COE) has sent three cyclists home from the regional Bolivarian Games after they were found out drinking after the opening ceremony.
The three riders, Richard Carapaz of Movistar, Jhonathen Narvaez who will for Quick-Step Floors in 2018, and Jonathan Caicedo were apparently drinking in a restaurant at a beach resort near the team hotel after the opening ceremony in Santa Marta, Colombia, when a group of Ecuadorian officials walked into the same establishment.
>>> Alcohol and cycling - does it mix?
El Telegrafo reports that a disagreement between the riders and officials then ensued, with a COE statement saying that the riders were in a "state of inebriation", being "disrespectful towards a number of the delegates and did not want to leave the establishment."
According to the statement, the three riders were escorted back to the team hotel, but then tried to go back out to continue drinking, only being stopped by members of the support team.
Watch: Top nutrition mistakes that amateur make

"The Ecuadorian sports system is not there to train people who show that kind of behaviour," said Augusto Morán, the president of the COE.
"Athletes, in addition to seeking medals and victories, must show exemplary behaviour for society and these three cyclists did not."
The three riders had been due to compete in the road race on Wednesday, with Carapaz one of the favourites for victory, but were instead sent packing on Monday evening.
>>> Katie Archibal column: Not getting drunk, and the shame of petty disappointment
With Carapaz, Narvaez, and Caicedo sent home, the Ecuadorian team will be reduced to just five riders, none of whom ride for WorldTour teams.
The Ecuadorian trio are far from the first cyclists to be sent home from events for late night misdemeanours. Belgian cyclist Gijs Van Hoecke was sent home from the London 2012 Olympic Games after being pictured having to be helped out of a taxi after a big night out, while Andy Schleck and Stuart O'Grady were removed from the 2010 Vuelta a España after heading out for a few extra beers on the first rest day
The Bolivarian Games are a regional games held every four years, contested by athletes from Bolivia, Colombia, Ecuador, Panama, Chile, Peru, and Venezuela, and named after Simón Bolívar, who helped those countries gain independence from Spanish colonial rule.
Thank you for reading 20 articles this month* Join now for unlimited access
Enjoy your first month for just £1 / $1 / €1
*Read 5 free articles per month without a subscription
Join now for unlimited access
Try first month for just £1 / $1 / €1