Ealing Council to trial cycle-safety device on large vehicles
The Cycle Safety Shield will alert drivers to the presence of cyclists and pedestrians in an attempt to make the capital's roads safer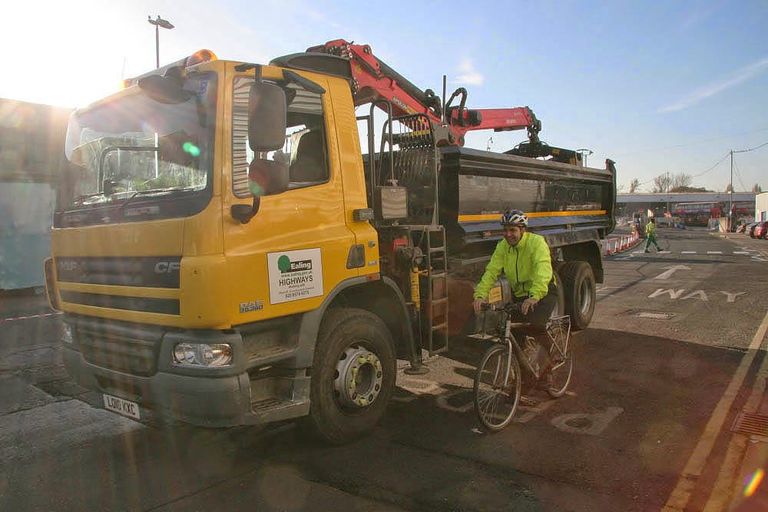 (Image credit: Martin Gorst +44(0)7905 911633)
Ealing Council are to install a potentially life-saving cyclist protection system on all its large goods vehicles (LGVs) after trials showed in improvement in driving standards.
The Cycle Safety Shield device alerts drivers to the presence of cyclists and pedestrians by way of audio and visual alerts and has been trialled on London buses in 2014.
Ealing also ran trials of the system in 2013 and results showed that driver behaviour improved by 20 per cent, which saved the council £1,000 per vehicle on fuel consumption.
>>> London's Safer Lorries Scheme enters final phase
Councillor Bassam Mahfouz said: "We are committed to reducing LGV danger because we know they are involved in approximately two thirds of cyclist deaths in London. This technology can save lives and prevent more families having to experience the heartbreak of losing their loved ones in road accidents."
The Cycle Safety Shield has been nominated for three London Transport Awards and is being trialled America, Spain, Australia, Denmark and Singapore.
>>> Dangerous lorries to be banned from London to reduce cyclist deaths
Charlie Lloyd from the London Cycling Campaign, said "There have been another three tragic cyclist fatalities involving large lorries in London in the past few weeks. Preventing more deaths from these lorries is almost always the greatest concern for people cycling in London.
"The trial results we have seen suggest that the Cycle Safety Shield system will produce a step change in reducing this danger to cyclists. Providing drivers with a warning system they can trust is one of our Safer Lorry Campaign objectives."