Eddy Merckx undergoes heart surgery
Belgian cycling legend Eddy Merckx recovering in hospital after 'minor' heart operation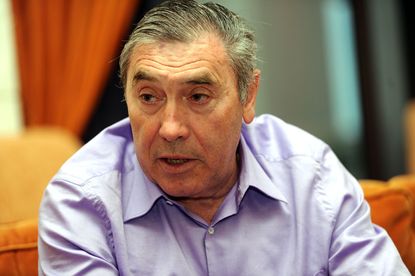 (Image credit: Graham Watson)
Cycling star Eddy Merckx underwent surgery and is recovering in a Brussels hospital, reported Belgian television channel Sporza today. News reports said that he had heart pain, but the 69-year-old Belgian said that he had a 'minor' operation to prevent future problems.
"It was only a minor procedure," Merckx said, "and I should return home."
Various Belgian media outlets reported that Merckx felt unwell last weekend and suffered from an irregular heart beat and drop in its rate. Doctors recommended surgery.
Yesterday, he underwent surgery at the UZ Jette hospital in the northwest outskirts of Brussels. He was treated by Pedro Brugada, the surgeon who looked after former Tour of Flanders winner Nick Nuyens (Garmin-Sharp) and former cyclo-cross world champion Niels Albert.
"It was just a minor surgery to prevent blood clots," Merckx added. "I would develop the combination of cardiac arrhythmias and low blood pressure."
Merckx continues to cycle well after retiring in 1978. He rode 70 kilometres on Saturday and 80 on Sunday, and even had a bucket of ice poured over his head as part of the Ice Bucket Challenge to promote awareness for disease amyotrophic lateral sclerosis (ALS).
'The Cannibal' dominated cycling through the 1960s and 1970s, and is viewed as the sport's most successful cyclist with wins in all three grand tours, including five times the Tour de France, and in almost every classic.
The biography Eddy Merckx, the Cannibal published in 2012 revealed that he had a heart problem since the start of his career that could have prevented him from racing. Thursday's surgery was not the first: in March 2013 he was fitted with a pacemaker to control his heart beat.
International news round-up (Mar 15): Chavanel out of San Remo; Chicchi wins; Nuyens out of Flanders; Tour of Turkey
Thank you for reading 5 articles this month* Join now for unlimited access
Enjoy your first month for just £1 / $1 / €1
*Read 5 free articles per month without a subscription
Join now for unlimited access
Try first month for just £1 / $1 / €1