Edinburgh Festival of Cycling gears up for its third year
The festival, which is scheduled for June 11 - 21, will focus on women's participation in cycling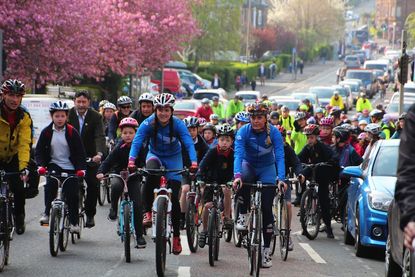 A cycling courier who 'took on the world' will be among the highlights of the Edinburgh Festival of Cycling, which will be held across various venues in Scotland's capital from June 11 - 21.
Emily Chappell, who recently cycled on a fatbike from Anchorage to Seattle through Alaskan snow and ice, will be sharing her stories about riding through some of the world's most remote and inhospitable regions.
The festival, which is now in its third year, will also feature Shannon Galpin, the National Geographic Adventurer of the Year and the first woman to mountain bike in Afghanistan.
Galpin has spent seven years working on projects to empower women and girls, and will be giving a talk entitled 'Pedalling a Revolution'.
>>>Plans unveiled for Shrewsbury Cycling Festival
The Edinburgh Night Ride, which had 40% female participants last year, will take place on June 19, while the Capital Trail, on June 13, will feature ex-GB triathlete Cat Morrison and Team Scotland 2014 member Lee Craigie.
Meanwhile, the city's Pleasance Cabaret Bar will host the world premiere of 'The White Bike', a play written and directed by Tamara von Werthern and inspired by the story of Eilidh Cairns, who was killed at the age of 30 by a lorry in London's Notting Hill in 2009 as she cycled to work.
Using a combination of witness statements, personal recollections from family members and the writer's own experience of cycling in the capital, the play creates a personal portrait of a young life cut short.
"I want to add a new perspective to the cycling safety debate," said Ms von Werthern.
For tickets and more information on the festival, visit its website here.
Thank you for reading 20 articles this month* Join now for unlimited access
Enjoy your first month for just £1 / $1 / €1
*Read 5 free articles per month without a subscription
Join now for unlimited access
Try first month for just £1 / $1 / €1