Essex cyclist suffers nasty facial injuries after car passenger pushes him off bike during time trial
Ian Jackson suffers a broken nose and two black eyes after being pushed off his bike on Friday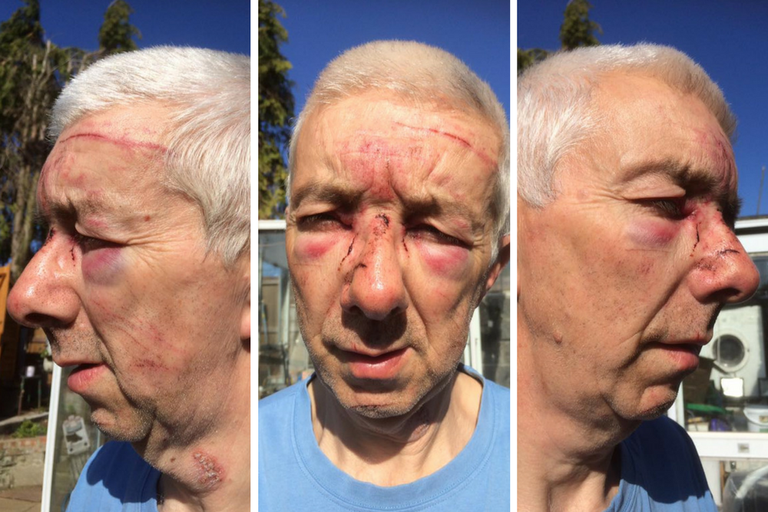 (Image credit: Sharon L Jackson/Facebook)
A cyclist from Essex is recovering from a broken nose and two black eyes after being pushed off his bike during a race on Friday.
Ian Jackson, who rides for Shaftsbury CC, was competing in the Becontree Wheelers 10 mile time trial on the E14A course near Brentwood when he was pushed from his bike.
>>> Cyclists' safety at risk from drivers who escape the law, finds 'truly shocking' inquiry
Speaking to Essex Live, Mr Jackson described the incident:
"The car came up from behind me. It wasn't like I cut them up — they could have passed me at any point.
"The car was on the right and it came to within two or three inches of me. I just saw the wing mirror of the car and then, a split second later, a hand from the passenger seat."
Mr Jackson was well enough to get back on his bike, ride back to the start, and drive home after the time trial, before his wife took him to hospital to receive treatment for his injuries.
>>> Coach driver who pushed cyclist off his bike and in to oncoming traffic found guilty of assault
"My brother was riding behind me but he just thought I had a puncture and rode on," Mr Jackson continued. "So I slowly cycled back to the start where my van was parked."
Mr Jackson reported the incident to police, but was told that there was little they could do as he didn't see the make or registration plate of the car, and also didn't see the assailant's face.
Anyone with any information about the incident is asked to contact Essex Police on 101 or Crimestoppers anonymously on 0800 555 111.