Etixx-Quick Step's Serry fractures skull on mountain bike ride
Pieter Serry falls off his mountain bike while riding near his home in Belgium and suffers a basal skull fracture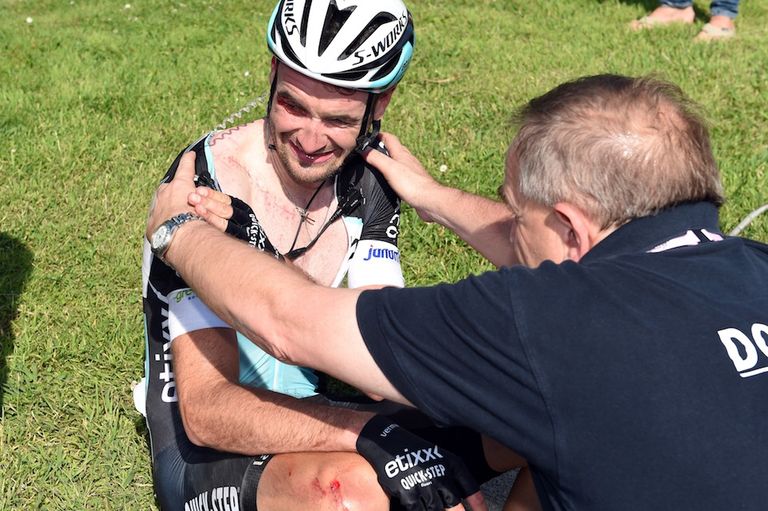 (Image credit: Watson)
Pieter Serry's nightmare 2015 has continued in pretty dramatic fashion as the Belgian suffered multiple injuries on an off-season mountain bike ride.
The 26-year-old Etixx-Quick Step rider managed to race 71 days this season, despite being involved in several huge crashes throughout the year, including breaking his collarbone at the Volta a Catalunya.
Six weeks later Serry was brought down in a crash caused by a spectator riding onto the course on stage two of the Giro d'Italia and was forced to abandon. He also crashed out of the GP de Wallonie in September with an elbow injury.
In his latest accident, Serry suffered a basal skull fracture, a broken tooth and several superficial wounds. His team says he will require cervical immobilisation for at least six week but surgery is not necessary.
"Today was just really bad luck," Serry said. "I was riding on the gravel, in a straight road. I lost control in a hole and I crashed. I'm really sad as it's another crash during my season, but the first one that is really the result of anything I did.
"My previous crashes were in situations where I was not directly involved, I was just in the wrong place at the wrong time. I really need to recover as soon as I can, and I hope to turn the page on the 2015 season and start 2016 in a better way."
While upright on his bike, Serry enjoyed a decent season as a domestique for Etixx-Quick Step in stage races, claiming four top-ten finishes at the Vuelta a España and finishing fourth overall at the Czech Tour.