Fixie rider causes huge crash at Giro d'Italia (video)
Trek Factory Racing rider Eugenio Alafaci tweets about a member of the public riding into the peloton with 10km to go and causes a crash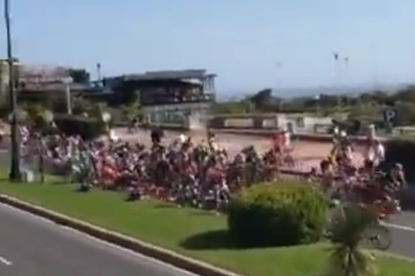 Last week, we brought you a collection of spectator fails at major races and it seems we have another one to add to the list.
In Sunday's stage two at the Giro d'Italia, a spectator riding a fixed-gear bike reportedly rode off the pavement and into the side of the speeding peloton, causing dozens of riders to fall off.
Trek Factory Racing rider Eugenio Alafaci was understandably a little peeved by the incident and took to Twitter to vent his frustrations.
"If I catch that dickhead who had the bright idea to jump in with the group fixbike 10km from the arrival making us fall..." Alafaci's tweet reads.

The video above appears to catch the incident, which we believe was caused by the cyclist coming down from the pavement onto the road at the 11-second mark.
As the camera pans back to catch the main peloton passing, focus your gaze just to the right of the foliage next to the pavement and you will see a rider enter the peloton as it passes.
Thank you for reading 20 articles this month* Join now for unlimited access
Enjoy your first month for just £1 / $1 / €1
*Read 5 free articles per month without a subscription
Join now for unlimited access
Try first month for just £1 / $1 / €1