Exclusive: Graeme Obree 'tempted' to have a go at the Hour Record
Changes in Hour Record rules tempt former holder Graeme Obree to consider putting in a ride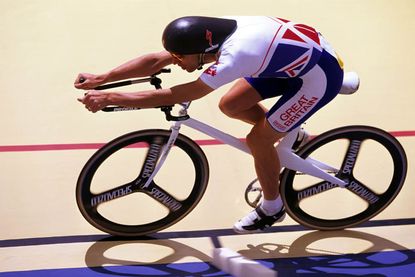 (Image credit: Graham Watson)
The changes the UCI is making to the regulations for the world hour record may prompt a fresh attempt from one of the most famous men in the record's history: Graeme Obree.
Obree broke the hour record twice in the 1990s, with a best ride of 52.713km in Bordeaux in 1994. He reacted to the news that the record was now to be contested on modern pursuit bikes, but that the distance to beat remained the 49.7km set by Czech Ondrej Sosenka in 2005 under the old-style 'athlete's' rules, with the suggestion that a new attempt was a real possibility.
"Wow. On a modern aero bike, 49.7km is really low-hanging fruit," he told Cycling Weekly. "You can put me down as a 'maybe' for that. In fact I've half a mind to book the track right now! I'm not in bad shape; it was only six years ago that I was able to beat the British time trial champion [Jason MacIntyre]. All anyone has to do now is get in there first with 50km, and I think I could do that. Clearly it's not an easy thing to do in terms of the personal commitment required, but I have to say I'm tempted."
He felt that if Fabian Cancellara stuck to his current plan of waiting till August to make an attempt, the Swiss star's ride wouldn't be the first under the record's new rules. "Cancellara could probably do 53km, or maybe if he really works hard at the aerodynamics with helmets and suits, 54km," said Obree. "But someone will have a go before him if he waits."
Perhaps, just perhaps, that someone will be Obree, looking for a third entry in the record books.
For the full interview with Obree, see next week's issue of Cycling Weekly magazine (May 22).
Now that the UCI has settled on its rules for the Hour Record, Fabian Cancellara and Trek may make announcement
Thank you for reading 5 articles this month* Join now for unlimited access
Enjoy your first month for just £1 / $1 / €1
*Read 5 free articles per month without a subscription
Join now for unlimited access
Try first month for just £1 / $1 / €1
Michael Hutchinson is a writer, journalist and former professional cyclist. As a rider he won multiple national titles in both Britain and Ireland and competed at the World Championships and the Commonwealth Games. He was a three-time Brompton folding-bike World Champion, and once hit 73 mph riding down a hill in Wales. His Dr Hutch columns appears in every issue of Cycling Weekly magazine
As a writer, he wrote the award winning The Hour about his attempt on the sport's most famous and sought-after record. He followed that up with Faster, about the training, the science the genetics and the luck behind the world's fastest riders, and Re:Cyclists, a history of cyclists from 1816 to the present day.
He's written for outlets ranging from Cycling Weekly to the New York Times, and has presented and and commentated for the BBC, Eurosport, Channel 4, and Sky Sports.
Before he did any of that he was a legal academic at Cambridge and Sussex universities. He now lives with far too many bicycles in London and Cambridgeshire.