Fan who lent Tyler Farrar his bike to finish Tour Down Under given set of pro kit by team
New Zealander Anthony Tooman receives a full set of riding kit from Team Dimension Data after lending Tyler Farrar his bike and shoes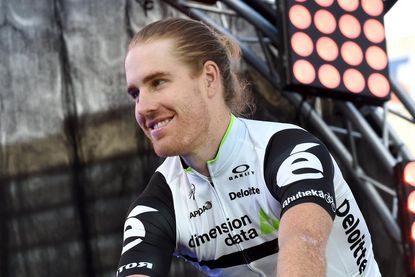 (Image credit: Watson)
A roadside spectator who lent Tyler Farrar his bike and shoes so that the American sprinter could finish Tour Down Under stage three after a crash has been presented with a full set of riding kit by Team Dimension Data.
New Zealander Anthony Tooman had travelled to Australia to watch the opening WorldTour race of the 2016 season, when he witnessed Farrar struggling to get his bike to work after a crash.
>>> Fan gives Tyler Farrar shoes and bike after crash to save his Tour Down Under
Farrar attempted finish the stage on his damaged Cervelo team bike but found that it had a mechanical problem. With the road congested, Farrar found himself isolated from his team cars and without a functioning bike... until Tooman stepped in.
Not only did Tooman lend Farrar his De Rosa bike, but he also lent him his riding shoes as Farrar's own shoes were incompatible with Tooman's pedal system.
Team Dimension Data and Farrar both publicly thanks Tooman, and presented him with a jersey, shorts and cap as a gesture of their gratitude.
>>> "Nah, a wheel is not going to cut it" – spectator describes giving Tyler Farrar his $6,000 bike
Tooman posted a photo of the kit on Instagram, with the message: "@teamdidata above and beyond, appreciate the thought and efforts of Veit Hammer [Dimension Data PR); and yes it fits. Very positive experience. All the best for the future."
The team also posted a photo of Farrar with Tooman after the stage, as the spectator arrived to pick up his bike.
Farrar wrote on his blog on the Peleton Brief: "I couldn't stop saying thank you over and over again. He saved my tour. I really didn't want to come to Australia to do 2.5 days of racing. It's a pretty cool look into how nice people in Australia are.
"He's gonna love his new Strava record on corkscrew now. Thanks man!"
Thank you for reading 20 articles this month* Join now for unlimited access
Enjoy your first month for just £1 / $1 / €1
*Read 5 free articles per month without a subscription
Join now for unlimited access
Try first month for just £1 / $1 / €1