"Nah, a wheel is not going to cut it" - spectator describes giving Tyler Farrar his $6,000 bike
New Zealander Anthony Tooman describes how he ended up giving Dimension Data's Tyler Farrar his bike on stage three of the Tour Down Under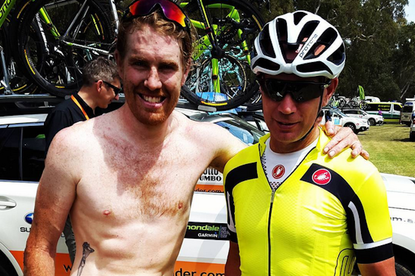 It's not often that a New Zealander is singled out for praise in Australia, but Kiwi Anthony Tooman is the talk of the town after lending his bike to Dimension Data's Tyler Farrar after a crash.
Tooman, 42, had travelled to Adelaide from Hamilton to watch the Tour Down Under when Farrar crashed near him on Gorge Road.
With no team car anywhere near him and the neutral service vehicle already passed, Tooman wheeled his AU$6,000 ($3,000) De Rosa Protos over to the American to see if he wanted to borrow a wheel.
"He said 'na, a wheel is not going to cut it'," Tooman told the Adelaide Advertiser.
"Then it went to 'well, what pedals are you running?' He was on Speedplay and I was on Shimano, and as soon as that was decided it was just 'well you might as well just take everything'.
"Then the next question was 'what size shoe are you?'
"He was a size 43 and I'm a 44, so we swapped shoes, he jumped on my bike, we gave him some water and seeya later."
>>> Tour Down Under: Video highlights from stage three
After giving up his ride, Tooman hopped in the broom wagon to the finish line to get his bike back, where he also posed for a few pictures with the appreciative Farrar.
"I was surprised at how calm he was and then he was pretty opened minded to any solution, he wasn't fazed at all, it was not a big deal," he added.
"I think if anything, he's a very approachable, humble guy and the whole team are I'd say."
Thank you for reading 20 articles this month* Join now for unlimited access
Enjoy your first month for just £1 / $1 / €1
*Read 5 free articles per month without a subscription
Join now for unlimited access
Try first month for just £1 / $1 / €1