Fleeman wins national hill-climb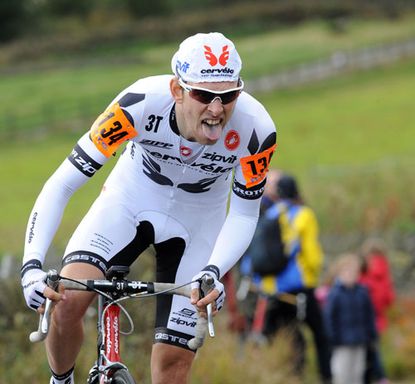 National Hill-Climb Championship 2009 photo gallery by Andy Jones>>
The best British finisher in the Tour of Lombardy last week, Cervelo Test Team pro Dan Fleeman returned to the UK in style when he was crowned the National Hill-Climb Champion on Sunday.
The 27-year-old flew up the 1,200-yard climb of Pea Royd Lane at Stocksbridge, near Sheffield, in an alarmingly good 3-17.8, winning from defending champion Matt Clinton by around 14 seconds.
"I didn't know anything about the climb beforehand," said Fleeman. "I had only seen a clip of the climb on YouTube. Before the start I was going to pace in evenly, but at the line I shot off like a mad man, and at the end I felt like I was dying."
"Over geared and that rain didn't help," were Clinton's first philosophical words back at race HQ. "It started raining with about five minutes to go. I had a 20 on and should have had a 21.
"My back wheel was spinning. I'd ridden up in the 20 and the 21 before the start. I rode the shortened event the other week in the 21 and I should have stuck with that, but there we are."
While Clinton had to settle for second spot, former national champion Jim Henderson confirmed afterwards that it was his last hill-climb, and with third spot in the bag he bowed out with his head held high.
Just half a second further back in fourth was Michael Smith, the Team Milton Keynes rider who was a shock winner of the Bec CC hill-climb a couple of weeks ago.
Promising youngster Mike Cuming (Raleigh Avanti) was the long-time event leader until the big guns hit the course, but the 18-year-old was content to hang to 10th spot and beat some distinguished names.
And there was a close result in the women's event, where Bristol-based German Anna Fischer (Maxgear RT) took victory by half a second from pre-race favourite Lynn Hamel (Team NCA).
Fleeman surprised at his own result
New champion Fleeman had come in to the event having completed the Tour of Lombardy the weekend before. Still, he got himself a little worried before the start, as he told Cycling Weekly.
"I was worried as I only warmed up for eight minutes. I'd got here two hours before. I got talking to Clarkie (Dave Clarke) and we walked up the hill. Then we walked down the hill. Then we only had twenty minutes to go and I wasn't even in my kit. So I put my kit on. I rode from the car near the start to HQ here and back and that's all I did."
"I was going to work on 600 watts average and hold it the whole way," Fleeman said. "Then at the start a few people told me not to bother. Anyway, off I go. I had about 700 watts for the first bit and then at the end I almost came to a standstill and dropped to about 550 watts and I didn't think I'd done that well.
"I was told I was six seconds up at the split so I thought I could easily have lost that in the second half. Fortunately there was a bit of a tail wind up the second half, so although there was less power I got pushed along a bit."
Results

National Hill-Climb Championships 2009: Pea Royd Lane, Stocksbridge, near Sheffield, 1,200 yards

1. Dan Fleeman (Cervelo Test Team) 3-17.8
2. Matt Clinton (Mike Vaughan Cycles) 3-31.6
3. Jim Henderson (Southport CC) 3-39.4
4. Michael Smith (Team Milton Keynes) 3-39.9
5. Adam Pinder (Blackburn & District CTC) 3-43.1
6. David Clarke (Pendragon Kalas RT) 3-43.4
7. David Griffiths (Paramount CRT) 3-44.0
8. Charles Taylor (South Pennine RC) 3-46.0
9. Robert Gough (Chippenham & Dist Wh) 3-47.4
10. Mike Cuming (Raleigh Avanti) 3-47.5
Women: Anna Fischer (Maxgear RT) 4-55.2
Juniors: Laurie Brooking (Buxton CC) 4-00.8
Veterans: Chris Myhill (Peak RC) 3-48.1
Daniel Fleeman and David Clarke check out the course
Pea Royd Lane
First man off
Dan Fleeman on his way to victory
David Clarke
Last year's winner, Matt Clinton
Women's winner Anna Fischer
Daniel Fleeman accepts his prize
Adam Blythe, Russell Downing and Dean Downing join the podium
Related links
National Hill-Climb Championship preview
NationalHill-Climb Championship 2009 photo gallery by AndyJones
Thank you for reading 5 articles this month* Join now for unlimited access
Enjoy your first month for just £1 / $1 / €1
*Read 5 free articles per month without a subscription
Join now for unlimited access
Try first month for just £1 / $1 / €1