Former Dutch pro Karsten Kroon admits to doping during career
Kroon confirmed the revelation that came out in a story published by Dutch sports paper AD Sportwereld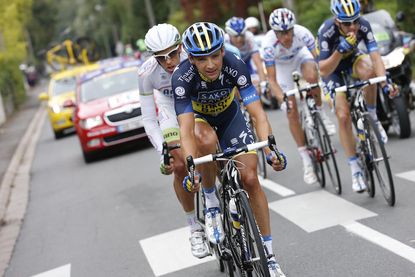 (Image credit: Yuzuru SUNADA)
Former Dutch professional Karsten Kroon admits that he doped in his career that included stage victories in the Tour de France and Paris-Nice.
Kroon, who commentates for Dutch Eurosport, was nudged forward after a story that emerged this morning on AD Sportwereld.
"The story is right," Kroon told ANP. "I'm sorry and I take all responsibility for it.
"I was a professional cyclist in a very difficult time and I have a lot of respect for my colleagues who have resisted the temptation to use doping at the time."
The 42-year-old raced from 1998 to 2014 for teams Rabobank, Saxo Bank and BMC Racing; the former two were shaken various doping scandals. He failed to give details when he doped, how he did so and who helped him.
Besides the Tour stage win, he finished second in the 2009 Amstel Gold Race behind Serguei Ivanov and third in the 2006 Flèche Wallonne behind winner Alejandro Valverde and Samuel Sánchez. The latter two Spaniards were both caught cheating during their careers.
The confession was brought about by AD Sportwereld's article. It said Kroon spoke about his doping in discussions for a possible analyst role at the newspaper. The plan was that he would confess publicly and explain in detail at the end of the 2017 season, but he later decided not to work for AD.
The journalist, who did not want to keep Kroon's secret, asked what he should do with the confession. Kroon said do what you want with it.
"In the mail exchange Kroon did not demand anything: he wrote that I had to decide for myself what I wanted to do with it. He would not argue over it," wrote Thijs Zonneveld.
"He did ask me for what the reason we would publish it. Would it add something, adding another former rider in the list of doping users? But Kroon is not just the first rider. For years, he was one of the best one-day riders in the country, he won a Tour stage and he now works in cycling again, as a commentator for Eurosport.
"What Kroon decides to do now that his doping use came out, I do not know. That's up to him. But I do know that I cannot and should not be silent for him."
Despite the news, Kroon is due to work for Eurosport during the upcoming Giro d'Italia.
"We've got the news," said a spokeswoman. "Karsten, like several fellow cyclists from the professional peloton of that time, used illegal methods. The most important thing for Eurosport is that he has now taken responsibility by giving openness and expressing regret."
In his statement, he said that the sport changed "enormously" since he turned professional just after the Festina affair in 1998.
"I saw the EPO test, the whereabouts and the blood passport," Kroon explained. "I am convinced that at the moment the sport is purer than ever."
Thank you for reading 5 articles this month* Join now for unlimited access
Enjoy your first month for just £1 / $1 / €1
*Read 5 free articles per month without a subscription
Join now for unlimited access
Try first month for just £1 / $1 / €1