Former national rowing champion sets Raleigh Chopper Hour Record
Matt Richardson posts new mark of 31.87km while raising funds to help beat blood cancer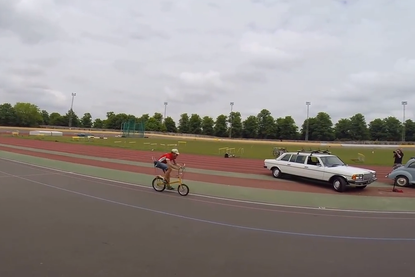 Move over Alex Dowsett and Bradley Wiggins, the Hour Record has its new hero.
Father-of-two Matt Richardson, from Henley-on-Thames and a former national rowing champion, may have ridden more than 20 kilometres fewer than Dowsett managed at the Manchester Velodrome on May 2 - but then the Movistar man wasn't on an unmodified Mark 1 Raleigh Chopper.
What's more, 49-year-old lawyer Richardson's wardrobe, cycling equipment, diet and training methods were all in true 1970s style as well.
>>>Hour Record attempt on a Raleigh Chopper (video)
Richardson's ride took place on May 23 at the Palmer Park Stadium velodrome in Reading, which was not even allowed to host racing a matter of weeks ago, and was witnessed by a large crowd of similarly-attired supporters.
And duly inspired, the man who scaled Mont Ventoux on his Chopper last year in aid of Leukaemia and Lymphoma Research pedalled for 31.87km (19.8 miles) in his 60 minutes to set a new world record.
"I was in so much pain, I could barely see, and every muscle in my body was screaming at me to stop," he said.
Richardson, whose father died of cancer in 1999 at the age of 55, hopes to raise £5,000 for the charity with this ride.
"When I felt I couldn't keep going, I thought about the suffering my father endured with cancer, but also how loudly he would have roared me on," he said.
"I'm humbled by the overwhelming support I've had from family, friends and people all over the world who have been touched in some way to help me raise funds to beat blood cancer."
To donate, visit this website.
Thank you for reading 20 articles this month* Join now for unlimited access
Enjoy your first month for just £1 / $1 / €1
*Read 5 free articles per month without a subscription
Join now for unlimited access
Try first month for just £1 / $1 / €1