GB RIDERS READY FOR WORLD CUP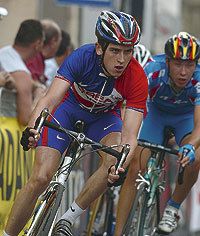 Britain's track endurance riders are nearing the end of their winter training camp in Perth, Australia, and will return to the UK in two weeks via the Moscow world cup. The team will enter two quartets in the team pursuit at the world cup from December 15 - 17.
The likely teams will be Paul Manning, Chris Newton, Ed Clancy and Geraint Thomas (pictured), with Rob Hayles, Steve Cummings, Andy Tennant and Ross Sander making the second team. This along with the Manchester World Cup will help the selectors determine the team for the world championships in Majorca next Easter.
These riders, along with T-Mobile's Mark Cavendish started their winter campaign on the roads around Perth and on the 250 metre track on the west coast of Australia. Getting out at 7am each day, the training has been split between road miles in the morning, and track sessions in the aftenoon.
After weeks of solid training the riders entered Perth's local track league last week, and enjoyed the chance to race with the locals. "We ripped it to bits," Rob Hayles said. "It was like letting the kids loose in the sweet shop. It?s like we?ve been locked up for the last three weeks, just training, and then we were allowed out to play."
The nine riders will also race at a Grand Prix meeting before heading to Moscow and then back to Manchester.
Thank you for reading 20 articles this month* Join now for unlimited access
Enjoy your first month for just £1 / $1 / €1
*Read 5 free articles per month without a subscription
Join now for unlimited access
Try first month for just £1 / $1 / €1