GB women's team pursuit squad salvage bronze at Track Worlds
Women's team pursuit squad bounces back from disappointing qualification ride to win bronze medal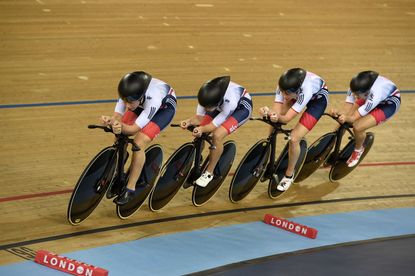 (Image credit: Andy Jones)
Great Britain's women's team pursuit squad claimed bronze after two impressive performances on the second day of the competition. It was the "performance we wanted to put out" according to Laura Trott after the British quartet beat New Zealand. Their performance helped put yesterday's disappointing ride in qualifying behind them.
In the eight years the team pursuit has been an event at the Track World Championships, GB has won six gold medals and two silvers. Yet faced with missing out on a medal altogether after a disastrous first day on Thursday, in which the riders split up under the pace and finished fifth, the squad came out firing on Friday.
Trott, Joanna Rowsell-Shand, Elinor Barker and Ciara Horne recorded the third fastest time ever ridden in the event against China in round one, crossing the line in 4-16.350. They caught their rivals at 3,000 metres to win their Round 1 race but to book their place in the bronze medal ride they had to continue and set a fast time.
Against New Zealand, who had qualified marginally faster than GB, the Brits backed up the afternoon's ride with another 4-16 minute performance, a time faster than America set on their way to gold against Canada. In the end it was a comfortable win, as all four riders crossed the line together, almost four seconds quicker than the Kiwis.
"Yesterday [in qualifying] we were a little bit disappointed, it didn't come together the way we knew it could." Said Trott. "Team pursuits are all about gelling as a team, and I think today showed that we really do gel as a team, and we put the performance out there that we did want to put out."
"It's not so much self-belief, but I guess belief in the team, believing in the fact that we can do it and we can go out and [do] really good performances," continued Trott.
The USA has leap frogged over bothe Great Britain and Australia to emerge as strong rivals for gold in Rio, and was at one point in qualifying riding on world record pace. Rowsell-Shand believes the teams will be even quicker come the Olympics. "We're going to see something around 4-10 in Rio, 4-13 is the current world record but that's going to come tumbling down," she said.
Thank you for reading 20 articles this month* Join now for unlimited access
Enjoy your first month for just £1 / $1 / €1
*Read 5 free articles per month without a subscription
Join now for unlimited access
Try first month for just £1 / $1 / €1