Geoghegan Hart shouldn't rush to sign pro contract, says Merckx
Tao Geoghegan Hart is advised to remain in the junior ranks to win races, rather than join the professional ranks too soon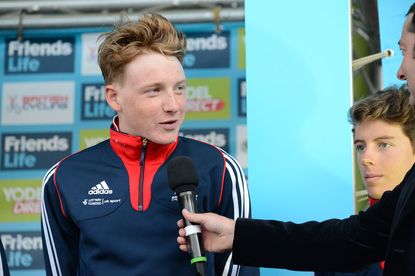 Tao Geoghegan Hart needs to take his development steadily and not rush to the professional ranks, explained team Axeon General Manager Axel Merckx.
Geoghegan Hart celebrated his 19th birthday in March, but rode strongly against riders sometimes twice his age in 2014. Last year, he placed third in the Under 23 Liège-Bastogne-Liège, 10th in the Tour de L'Avenir and 15th in the Tour of Britain.
>>> Tao Geoghegan Hart's Tour of Britain crash
"He's young, but he already has impressive results for a first-year espoir. He's a driven guy. For me, it's not a matter of if, but when he can turn pro," Merckx told Cycling Weekly.
"Before you go up to the big teams and into the WorldTour, though, you want to be a winner and know how to win and know how to perform with the responsibility of the team."
Merckx's US development team looked after Geoghegan Hart well, as it did Taylor Phinney, Alex Dowsett and Joe Dombrowski in the past. The key, said Merckx, is spending time in the under-23 category, winning and not rushing to the professional teams.
>>> British Riders of the Year number 19: Tao Geoghegan Hart
"If you move up too fast you are at the bottom and have to work for the big guys, which you still have to do, but at least, you will go up as an established guy and have the results to back you up," Merckx said.
"I think that more and more pro teams are trying to jump certain development stages for the riders and take them earlier because they all are afraid they are going to go somewhere else. I don't think it's a good idea.
"Yes, they will make more money right away, but do you want that or to be a leader and a good rider? I understand that some of the teams already take them and invite them to camps, which is fine, but I think that as a racer and athlete, you want to be a part of a development team and have that experience."
>>> Tao Geoghegan Hart one of 31 riders receiving Rayner funding in 2015
Geoghegan Hart trained with Sky this winter at its camp, but is not linked to the team when he wants to turn professional. He may sign for a professional team for 2016, or even wait until 2017.
"There are always exceptions. When you see Mathieu van der Poel racing, he's an exception. He can go with the elite cyclists and win the cyclo-cross Worlds. He also has a well-known family with knowledge of the sport, but not everyone is that lucky to have such a background like he has and like I had to make sure that you go through the steps and that you are protected," added Merckx.
"I had that conversation with Tao. He wasn't thinking about going pro, he was smart and acknowledged that. For him it was important to stay in an environment and develop. Some riders have skipped that step, failed and he recognised that."
Geoghegan Hart's programme includes the U23 Liège-Bastogne-Liège, where he placed third last season, and the Tour of California. He may return to Paris-Roubaix and to the Tour de L'Avenir.
Thank you for reading 20 articles this month* Join now for unlimited access
Enjoy your first month for just £1 / $1 / €1
*Read 5 free articles per month without a subscription
Join now for unlimited access
Try first month for just £1 / $1 / €1