Tao Geoghegan Hart one of 31 riders receiving Rayner funding in 2015
Dave Rayner Fund announces list of 31 up-and-coming cyclists that will receive funding during 2015 season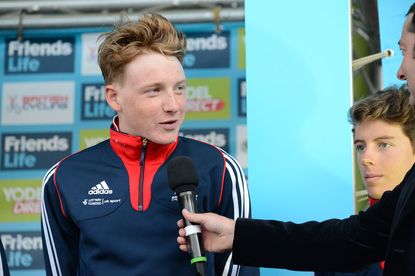 Tao Geoghegan Hart is one of 31 riders who is to be awarded grants by the Dave Rayner Fund for 2015.
The Fund that enables under-23 cyclists to live, train and compete away from the UK racing scene today announced the list of riders who they will support over the impending season and there are 26 male recipients of funding and five female.
The stand-out name is Geoghegan Hart who came 15th in the Friends Life Tour of Britain last year and tenth in the Tour de l'Avenir. It is the second successive year that the Hackney-born rider, this year riding for Axel Merckx's Axeon Cycling Team in the USA, will receive funding.
Six other of this year's riders were also funded last year: Joe Kirkham, Andy Leigh, Adam Lewis, Eoin McCarthy, Alistair Slater and Dan Whelan.
>>>Dave Rayner Fund celebrates 20 years at annual charity dinner
The Fund will be hoping for an omen with James Shaw heading to Belgium to ride for Lotto-Soudal U23 (previously Lotto-Belisol U23), the same team that previously-funded rider Dan McLay rode for before he was signed by pro-continental outfit Bretagne-Seche in the off-season.
Belgian team Matrix ProCycling has signed Molly Weaver, Jessie Walker, Penny Rowson, Harriet Owen and Melissa Lowther and all will receive funding.
The 31 riders receiving funding from the Dave Rayner Fund in 2015 are:
Scott Auld
Tom Bracegirdle
Christopher Dredge
Callum Ferguson
Dan Gardner
Tao Geoghegan Hart
Duncan Heywood
Owen James
Taylor Johnstone
Joe Kirkham
Andy Leigh
Adam Lewis
Melissa Lowther
Leon Mazzone
Eoin McCarthy
Matthew Novell
Harriet Owen
Ricky Parsons
Dan Pearson
Penny Rowson
Jack Sadler
Jacob Scott
James Shaw
Alistair Slater
Daniel Stewart
Matthew Teggart
Julian Varley
Jessie Walker
Molly Weaver
Dan Whelan
Jake Womersley
More details of the organisation can be found on the Dave Rayner Fund website.
Thank you for reading 5 articles this month* Join now for unlimited access
Enjoy your first month for just £1 / $1 / €1
*Read 5 free articles per month without a subscription
Join now for unlimited access
Try first month for just £1 / $1 / €1