GHENT STAR KEISSE WON'T GET IT ALL HIS OWN WAY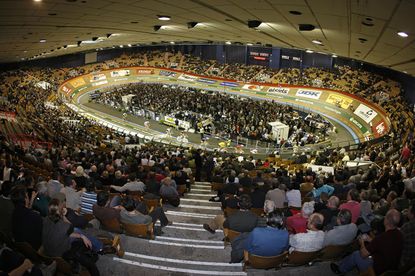 Home favourite Iljo Keisse and his German partner Robert Bartko will find themselves playing catch-up at the Ghent Six tonight.
Friday's fourth night was a thriller and has left the event on a knife-edge. The second Madison of the evening saw Swiss duo Bruno Risi and Franco Marvulli take an all important lap on Keisse and Bartko.
It was also the best Madison so far for the British pair Bradley Wiggins and Mark Cavendish. They finished third, on the same lap as the winners.
So, although the Ghent-born Keisse - nicknamed the Kaiser of the Kuipke by his rowdy, drum-beating, flag-waving fans - and Bartko have notched three more points than Risi and Marvulli, they have lost a lap.
Saturday night will set the event up for a thrilling finale on Sunday afternoon. Keisse and Bartko simply have to take back that lap, while preserving their slim points advantage, or they are destined to lose out to the Swiss.
FRIDAY NIGHT AT THE KUIPKE
Last night Wiggins enjoyed victory in a highly-theatrical Derny race. Paced by the legendary showman, Joop Ziljaard, Wiggins sat at the back of the six-rider group until putting on a crowd-pleasing burst around the midway mark.
Ziljaard's trademark is to turn to his rider and make an exaggerated gesture as if to say: "Come on, let's go."
Like a circus ringmaster, he appears to be dictating the pace and the race - and the crowd loves it.
Wiggins did his fair share of 'come on, let's go' gestures too and at the finish it was a little tighter than he would have liked but he edged the win over Belgium's Steve Deneef.
Eddy Merckx, himself a four-time winner of the Ghent Six, was guest of honour and he presented the prizes to Wiggins.
Third place in the second 40-minute Madison showed Cavendish is getting better ever night - which bodes well for next weekend's World Cup meeting in Sydney, where Wiggins and Cavendish will again team up for the Madison.
Wiggins highlighted how quickly Cavendish's track form is coming on after an end-of-season break and a holiday.
"This is like a stage race for him, he's getting stronger every night and hopefully this week will really pay off when we get to Sydney," he said.
"We've had a couple of very good Madisons and the partnership is beginning to gel."
OTHER BRITS
Rod Ellingworth, who coaches Britain's Olympic Academy squad, has been a demanding task-master for the young British pair Adam Blythe and Peter Kennaugh, who lie second in the UIV Cup for under-25 riders.
Ellingworth brought Cavendish to ride the under-23 event with Matt Brammeier in 2004, an experience the coach remembers with a smile. "He had a bit of a torrid time that week, I remember, but he's come on a bit now, eh?"
The next hope for the future is the 18-year-old pair Kennaugh and Blythe who, despite being the youngest partnership in the race, lie second behind a Belgian team.
They led after the first night but now find themselves behind Belgians Davy Tuytens and Tosh Van der Sande. The format is a series of flying-lap time trials and 200-lap Madison races and now Britain's best hopes of victory are to take a lap in the Madison, but it's going to be difficult.
"They're learning so quickly," said Ellingworth, who believes in the educational value of the Ghent Six. "They're both strong but they need to work on their decision-making at times, and that's what we're doing. We've been videoing each session and watching it back the following afternoon but really it's all about them seeing for themselves where they're going wrong and learning from it every night.
"It will be hard to take a lap but they need to pick their moments carefully by waiting and making the other teams make the moves or do the chasing."
OVERALL STANDINGS
1 Bruno Risi & Franco Marvulli (Swi) 265pts
2 Danny Stam & Robert Slippens (Ned) 229pts
One lap down
3 Iljo Keisse & Robert Bartko (Bel-Ger) 268pts
24 laps down
10 Bradley Wiggins & Mark Cavendish (GB) 109pts
UIV CUP
1 Davy Tuytens & Tosh Van der Sande (Bel) 69pts
2 Peter Kennaugh & Adam Blythe (GB) 51pts
RELATED LINKS
Click here to see a full gallery of photos from day three of the Ghent Six-Day
CW's Dummies' Guide to the Ghent Six-Day
Wiggins and Cavendish finding form in Ghent
Thank you for reading 20 articles this month* Join now for unlimited access
Enjoy your first month for just £1 / $1 / €1
*Read 5 free articles per month without a subscription
Join now for unlimited access
Try first month for just £1 / $1 / €1