Guy Martin sets off on attempt to break British around-the-coast cycling record (video)
TV presenter and motorbike racer Guy Martin is attempting to set a new record for the shortest time taken to cycle around the British coastline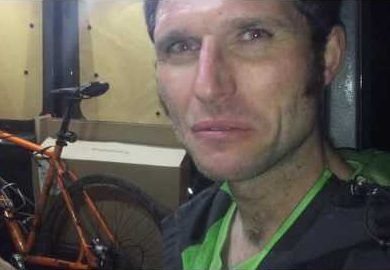 Motorcycle racer turned television presenter Guy Martin is currently riding around the coast of Britain in an attempt to set a new record.
Martin is attempting to ride the 4,802-mile coastal route in 20 days, having set off at 4am on Sunday morning (December 5). He aims to complete the challenge by 5am on Christmas day morning in order to safely better the current record of 22 days set by Nick Sanders in 1984.
Martin filmed a video from what appears to be the back of his van 'in a pub car park' on Saturday evening. In the video, he says: "We've got a big job on. The record's stood since 1984, I'm going to try and break it."
"It all starts here. It's further than you think," explains Martin. "If you'd have asked me, you'd think... Land's End to John O'Groats is 900 miles, so it would be times two plus a bit. But it's not, it's miles. 4,802. That's what the official record distance is.
>>> Cycle lanes cause problems for road users, says Transport Secretary
"It's not the best time of year to be doing it," admitted Martin, who faces limited daytime light, low temperatures and windy conditions on his coastal route.
Although little information has come via Martin's official social media channels, Facebook user Stephen Belll snapped a photo of himself with Martin in Amble, Northumberland, at 10.30pm on Sunday night after Martin had ridden 240 miles north from Grimsby.
It's by no means the first cycling challenge that Martin has undertaken. He was the British motor-paced cycling land speed record holder, having clocked 112.94 mph in 2013. That record was subsequently broken in April 2016 by Neil Campbell.
Martin was most recently seen on TV screens in the Channel 4 series Our Guy in China. During the last episode broadcast on Monday evening he attempted to set a new fastest time to cross the hostile Taklamakan Desert by bike. He set a new record of 28 hours and 17 minutes for the 341-mile trip, soundly beating the previous mark of 47 hours.
Thank you for reading 5 articles this month* Join now for unlimited access
Enjoy your first month for just £1 / $1 / €1
*Read 5 free articles per month without a subscription
Join now for unlimited access
Try first month for just £1 / $1 / €1