Halfords to sponsor 2010 Tour Series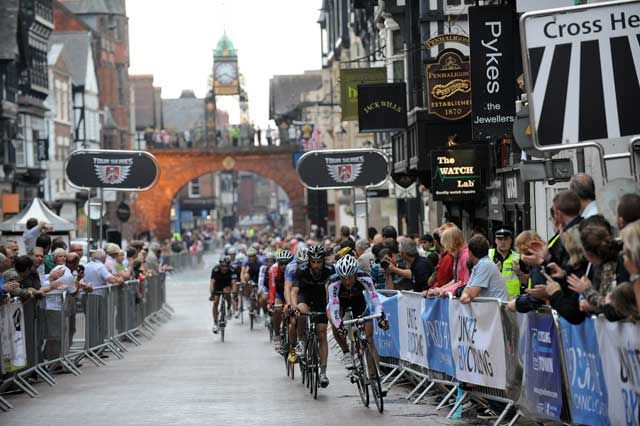 Halfords, the British bicycle and motorparts retailer, is to sponsor the 2010 Tour Series, the event's organiser SweetSpot has confirmed.
"As the UK's leading cycle retailer, Halfords is keen to bring the thrill of cycle racing to a wider audience," said Halfords' commercial director Paul McClenaghan.
"The Halfords Tour Series will help give cycle enthusiasts, families and young aspiring Bradley Wiggins' alike inspiration to get on their bikes."
SweetSpot commercial manager Alastair Grant added: "Halfords' partnership with The Tour Series will allow us to do even more to promote the sport to new audiences going forward, helping to engage with the thousands of spectators and the hundreds of schools across the country who attend these exciting events.
"By bringing elite races 'back to the people' in televised, mid-week slots, we can also engage people across the country with Britain's best Olympic sport."
The Tour Series comprises of ten mid-week city-centre criterium races, contested by ten teams from May 25 to June 24 2010. The series is scheduled to be televised on ITV4.
Halfords have been enjoying solid sales success over the past two years, despite the general downturn in consumer spending. Much of this success has been attributed to sales of bicycles and cycle accessories.
Last year's Tour Series was narrowly won by the Halfords-Bikehut team, although the squad was disbanded at the end of the 2009 season. With this latest sponsorship move, Halfords has evidently switched from backing a team to supporting events.
Tour Series 2010 dates
First round (TBC) May 25
Second
round (TBC) May 27
Tewkesbury June 1
Exeter June 3
Southport
June 8
Sixth round (TBC) June 10
Seventh round (TBC) June 15
Eighth
round (TBC) June 17
Ninth round (TBC) June 22
Woking June 24
Related links
2010 Tour Series teams and dates revealed
Halfords win Tour Series on final night