'I heard the stewardess praying': Dimension Data riders describe mid-flight terror as plane makes emergency landing
KLM flight safely makes emergency landing in Nice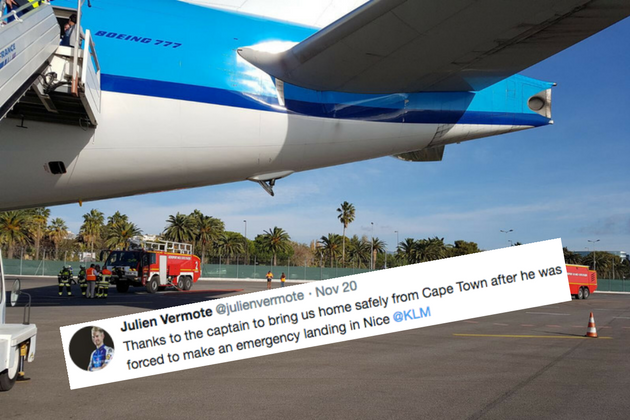 Two Dimension Data riders have described the moment a routine flight back from a team training camp turned into high drama after a fire alarms were triggered in the hold of the plane.
Serge Pauwels and Julien Vermote were travelling back to Amsterdam from a team training camp in Cape Town, when their KLM flight had to make an emergency landing in Nice after a fire was reported to have broken out in the hold as the plane travelled over the Mediterranean to the west of Corsica.
>>> 21-year-old lans professional contract with Dimension Data after impressing with rides on Zwift
"The stewardesses had just served breakfast, but quickly had to clear it," Pauwels told Belgian newspaper Het Nieuwsblad.
"Not much later the pilot announced that the smoke sensors had gone off in the luggage compartment and that we would make an emergency landing in Nice."
Flight data shows that the Boeing 777 which the two riders were on board was cruising at 34,000ft before the fire was detected, then plunging 17,000ft in the space of just a few minutes as it made a rapid descent towards Nice.
Watch: How to upload a Strava route to your Garmin
The rapid descent - described by Pauwels as the equivalent of descending from the top of Mont Ventoux to Bedoin every minute - didn't just scare the passengers, with even the staff on the flight being worried about the situation.
"It was frightening," Pauwels continued. "I was at the emergency exit, which meant that the stewardess was sat right in front of me. I heard her praying. I just thought I would not make it to 34 years old."
>>> What do different airlines charge to fly your bike around the world?
Thankfully, within 20 minutes of the pilot beginning the descent, the riders, and the rest of the passengers, were back on terra firma, with Vermote coolly describing the experience as "not the most pleasant quarter of an hour in my life."
Five hours later, after receiving the all-clear from fire crews that it had been a false alarm, the plane was back in the air to complete the journey to Amsterdam without further incident.
This article was updated to clarify that the fire alarm was later declared a false alarm.