What do different airlines charge to fly your bike around Europe and the world?
Infographic from Yellow Jersey Cycle Insurance shows the cost of taking your bike on leading carriers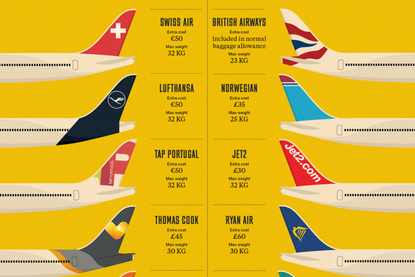 If you're confused by the cost of flying with your bike, you're not the only one.
Each airline has its own rules and regulations, with some seeming to delight in making travel with anything more than a change of underpants an ordeal. Get the regs wrong and you can face a hefty surcharge at the airport to put your bike on the plane.
>>> Watch: Baggage handlers drop multiple bike boxes off Easyjet flight (video)
And what seems like the best deal flying to a particular destination may not be by the time you've taken account of the additional cost of flying your bike out. Not to mention having to take a long ground transfer having flown into an airport miles from your intended destination.
>>> Read: Our buyer's guide to the best bike bags and boxes
Yellow Jersey Cycle Insurance has attempted to demystify the costs with a couple of handy infographics, showing your luggage allowance, and whether you can include your bike in this or if you need to pay extra.
Most relevant to riders in the UK is the one at the top of this page, showing the charges for European airlines, but the insurance company has now produced other versions for various parts of the world, which you can see on the company's website. There's a 2018 update to the worldwide infographic in the works.
There's an estimate of the additional cost of carrying your bike too. This may vary depending on the weight of your bike and its box, as well as how much of your included allowance you have used up with your other bags. So you may still need to do a bit of maths to see how much you'll actually pay.
>>> Watch: Your guide to the perfect training camp (video)
But it's good to have at least an outline of the likely cost and something to go on when making your decision on which airline to book.
Yellow Jersey also points out that should your bike get run over by a passing jet, you'll get only minimum compensation, whereas its policy includes cover for the value of your bike and the bike box while in transit.
Thank you for reading 20 articles this month* Join now for unlimited access
Enjoy your first month for just £1 / $1 / €1
*Read 5 free articles per month without a subscription
Join now for unlimited access
Try first month for just £1 / $1 / €1