Hope remains that Inverness will get velodrome despite setback
A City Deal for Inverness and the Highlands region does not include funding for the velodrome, but the project still has support from all parties involved.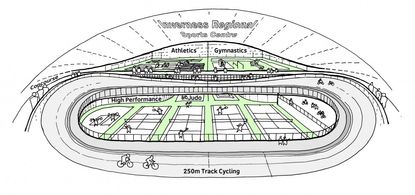 By Thomas Parker
The five of the Scottish sport governing bodies involved in the plan to build a velodrome in Inverness are still in support of the project - despite it not receiving expected funding.
It was hoped that the Inverness and the Highland's £315m City Deal would have included around £15-£20m towards the regional sports centre, but the March announcement omitted the plan.
The £29 million project, designed to be a multi-purpose sports centre based around a 250m velodrome, failed to make the final cut, despite Highland Council agreeing funding to take the development of the project to the next phase.
SportScotland have already committed to inject between £7-£8 million should remaining funding be secured. Cycling Scotland, Tennis Scotland, Judo Scotland, Scottish Gymnastics and Scottish Athletics all still back the plan, too. Despite the setback, the sports centre has now become an official council project.
>>> Video: Highlands cyclist Craig MacLean sets new roller speed record of 142mph
There are currently six indoor velodromes in the UK, but the Emirates Arena - Sir Chris Hoy Velodrome in Glasgow the only one in Scotland.
HiVelo, a group that has been campaigning for the building of a velodrome in Britian's northernmost city since 2008, are still hopeful that funding will become available.
Its group secretary Mike Greaves said: "The closest velodrome is in Glasgow, and as Inverness is a geographical challenging place in terms of sports, it takes almost a day to get to and from Inverness to Glasgow and back again, making it impossible to develop high class athletes in the Highlands.
"It also makes it difficult to inspire young people getting into sports, meaning there is a need and a market for a local facility."
Thank you for reading 20 articles this month* Join now for unlimited access
Enjoy your first month for just £1 / $1 / €1
*Read 5 free articles per month without a subscription
Join now for unlimited access
Try first month for just £1 / $1 / €1