Video: Craig MacLean sets new roller speed record of 142mph
Craig MacLean uses Guy Martin's Rourke land speed record bike to go 142mph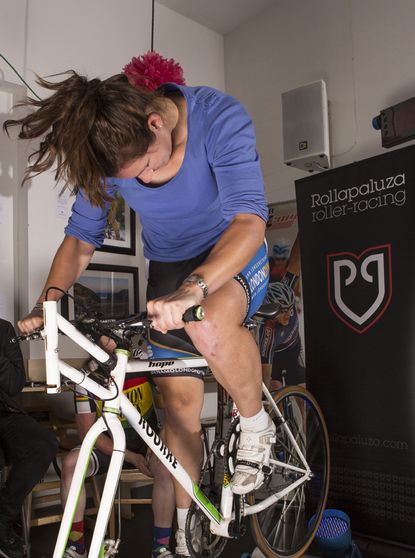 Craig MacLean has set a new roller speed record of 142mph on the same Rourke bike that Guy Martin used to set a land speed record.
MacLean set the record at the Rollapaluza event at Look Mum No Hands! café in London on Saturday, where he also set a new mark for 500 metres as well as clocking 142mph for peak speed.
Olympic, world and Commonwealth track medallist MacLean rode 500 metres in 11.34 seconds, which is a staggering average of 99.2mph from a standing start.
All did not go smoothly for MacLean, however, as he found that his calves were too wide for the extra gearing on the Rourke bike, and the Dolan rider had to strap on gaffer tape to prevent chaffing.
Jennifer Crouch of London Dynamo set the top marks for the women's speed and 500m events.
MEN
Fastest Speed
Craig Maclean (Dolan Bikes): 142 mph / 227 kph
Rob Reed (The Bicycle Society): 134.1mph / 214.6kmh
James Sullivan (Brixton CC): 130mph / 208kmh
Atiba Quildan (Twickenham CC): 120.4mph / 192.6kmh
500m
Craig Maclean (Dolan Bikes): 11.34 seconds (average cadence 88.2rpm)
Rob Reed (The Bicycle Society): 11.70 seconds
Atiba Quildan (Twickenham CC): 12.06 seconds
James Sullivan (Brixton CC): 12.50 seconds

WOMEN
Fastest Speed
Jennifer Crouch (London Dynamo): 113.1mph / 181kmh
Sam Sullivan (Brixton CC): 107.8mph / 172.5kmh
500m
Jennifer Crouch (London Dynamo): 14.09 seconds
Sam Sullivan (Brixton CC): 14.25 seconds
Track sprint legend Craig MacLean will attempt to set records for peak speed and fastest 500m at Rollapaluza event
We take a look at the bike that motorcycle racer Guy Martin took to 112mph to set a new British
Thank you for reading 5 articles this month* Join now for unlimited access
Enjoy your first month for just £1 / $1 / €1
*Read 5 free articles per month without a subscription
Join now for unlimited access
Try first month for just £1 / $1 / €1