House helps Rapha Condor Sharp dominate Tour Series in Kettering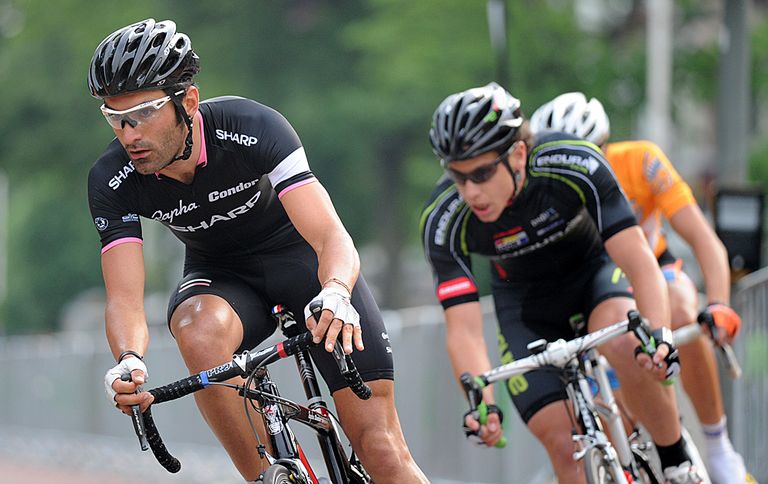 Kristian House and his Rapha-Condor-Sharp team swept up the honours in Thursday night's Tour Series sixth round in Kettering.
House out-sprinted Simon Richardson (Sigma Sport-Specialized) to take the win after the pair had broken free from a larger escape group earlier in the race.
Mid-way through the race, House had animated the big break along with Ian Bibby (Motorpoint-Marshalls Pasta) and Rob Partridge (Endura). They were then joined by Casey Munro (Pendragon).
As the bunch chased in the gusty conditions, only House and Munro stayed clear but then the Pendragon rider dropped back as Richardson joined House up front. With two laps to go, the pair had built up a considerable margin over the bunch. House powered past Richardson in the finale to take the win.
House's team-mate Zak Dempster won the sprint for third from Ian Wilkinson (Endura).
Although Rapha-Condor-Sharp dominated the night's racing, the Motorpoint-Marshalls Pasta team are clinging on by a two-point lead in the series overall standings.
"Rapha won it easily enough last night," said Motorpoint team manager Keith Lambert.
"We had a bit of bad luck losing Malcolm Elliott two laps before the end with a puncture, which is the same thing that happened to us with Ed Clancy in Southport. Clancy wasn't riding last night either, he's still not feeling well but that's just the way it goes," Lambert added.
Television highlights from Thursday's Tour Series round will be aired on ITV4 on Friday (June 11) at 7pm.
The next round - seven of ten - will take place in Peterborough on Tuesday.
Tour Series 2010, round six: Team results
1. Rapha - Condor - Sharp
2. Motorpoint - Marshalls Pasta
3. Endura Racing
4. Sigma Sport - Specialized
5. CyclePremier.com - Metaltek
6. Team Raleigh
7. Team Corley Cycles
8. Pendragon Le Col Colnago
9. Kuota - road.cc
10. Team Ireland
Tour Series 2010, round six: Individual
1. Kristian House (Rapha - Condor - Sharp)
2. Simon Richardson (Sigma Sport - Specialized)
3. Zak Dempster(Rapha - Condor - Sharp)
4. Ian Wilkinson (Endura Racing)
5. Tony Gibb (CyclePremier.com - Metaltek)
The Halfords Tour Series Standings (after six rounds)
1. Motorpoint - Marshalls Pasta52pts
2. Rapha - Condor - Sharp50pts
3. Endura Racing49pts
4. Sigma Sport - Specialized38pts
5. Team Raleigh34pts
6. Pendragon Le Col Colnago33pts
7. CyclePremier.com - Metaltek30pts
8. Team Corley Cycles23pts
9. Kuota - road.cc13pts
10. Team Ireland6pts
Boardman Bikes Sprints Competition Results
1. Graham Briggs (Rapha - Condor - Sharp)7pts
2. Jack Bauer (Endura Racing)5pts
3. Kristian House (Rapha - Condor - Sharp) 5pts
Boardman Bikes Sprints Competition Standings (after six rounds)
1. Graham Briggs (Rapha - Condor - Sharp)38pts
2. Liam Holohan (Team Raleigh)35pts
3. Kristian House (Rapha - Condor - Sharp)32pts
Motorpoint retain the Series lead with four rounds left to play four


Related links
British race calendar 2010: Includes links to all previous 2010 Tour Series round reports