Houvenaghel wins individual pursuit in Melbourne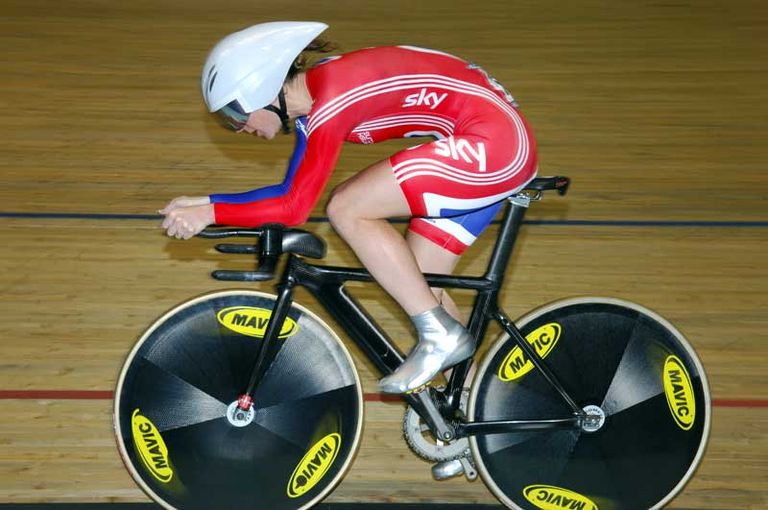 Wendy Houvenaghel won the gold medal in the individual pursuit at the Melbourne World Cup - although she was pushed all the way by the New Zealand rider Alison Shanks.
Houvenaghel's victory was the 101st British win in the 17-year history of the track World Cup series. The 34-year-old from Northern Ireland won the individual pursuit at the opening round of this season's World Cup in Manchester three weeks ago. She was also part of the victorious team pursuit team, which, as Cycling Weekly revealed, meant that Britain reached the milestone of 100 World Cup wins.
In Melbourne, Houvenaghel topped the leaderboard in qualification with a time of 3-34.156. Shanks was just a fraction slower in 3-34.225, which set up a tense final.
Houvenaghel upped her game in the final, saving the best for the final kilometre. She was just behind the Kiwi at the 2,000-metre mark but gained ground significantly in the closing stages to clinch gold.
In the points race competition Chris Newton qualified by winning his heat and scored well in the final, but missed out as six riders gained a lap. Australia's Cameron Meyer finished tied on points with Greek rider Ioannis Tamouridis, courtesy of crossing the finish line ahead of his closest rival.
Britain's Jess Varnish qualified 10th in the women's sprint, which meant she went into the B competition. She beat Eunmi Park of Korea before losing to Emily Rosemond of Australia in the B semi-final. Victory over Sandie Clair of France gave her 11th place overall. In the main competition Anna Meares gave the home crowd a victory to cheer, beating China's Shuang Guo in the final.
New Zealand's Jesse Sergent won the men's individual pursuit, beating Rohan Dennis of Australia in the final. The pair both qualified with respectable times of 4-19, but were slower in the final. No British riders were in the competition.
The Australian trade team Jayco won the team sprint. There was no British presence in the event.
As expected, the Australians are in control, winning three gold medals on the first day of competition, thanks to Anna Meares, Cameron Meyer and the team sprinters.
The competition continues on Friday with the men's kilometre time trial, Keirin, scratch race and team pursuit, women's points race and team sprint.
It's a big day for the British riders with several medal hopes. In action will be David Daniell in the kilometre, Steven Burke, Ed Clancy, Andy Fenn and Andy Tennant in the team pursuit, Matt Crampton and Ross Edgar in the Keirin and Chris Newton in the scratch.
MELBOURNE WORLD CUP DAY 1 - RESULTS

Women's individual pursuit

1 Wendy Houvenaghel (Great Britain) 3-33.771
2 Alison Shanks (New Zealand) 3-34.133
3 Lesya Kalitovska (Ukraine) 3-38.047
Men's individual pursuit

1 Jesse Sergent (New Zealand) 4-23.192
2 Rohan Dennis (Australia) 4-24.374
3 Vitaly Shchedov (Ukraine) 4-32.106
Men's team sprint
1 Team Jayco (Ellis, Perkins, Sunderland) 44.589
2 Germany (Bergemann, Enders, Wachter) 44.673
3 Russia (Borisov, Dmitriev, Kucherov) 45.206
Men's points race
1 Cameron Meyer (Australia) 33pts
2 Ioannis Tamouridis (Greece) 33pts
3 Lukasz Bujko (Poland) 28pts
5 Chris Newton (Great Britain) 24pts (at one lap)
Women's sprint
1 Anna Meares (Australia)
2 Shuang Guo (China)
3 Willy Kanis (Netherlands)
11 Jessica Varnish (Great Britain)
Women's scratch race

1 Evgeniya Romanyuta (Russia)
2 Giorgia Bronzini (Italy)
3 Theresa Cliff-Ryan (VBR)
RELATED LINK
International track results 2009-2010