How does your brain react when you reverse the steering on handlebars? (video)
A competent cyclist and engineer attempts to ride a bike where turning right actually turns you left - how hard can it be?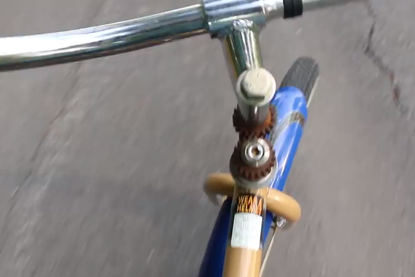 You don't need to be a rocket scientist to ride a bike, but actual rocket scientist Destin Sandlin discovered just how hard it is to re-learn if you alter the steering.
Sandlin's welder friends created a bike with a modified handlebar, which meant that turning them to the right moved the wheel to the left and vice-versa.
The result? Sandlin, and everyone else who tried it, were left wobbling around as they tried to correct their handling errors.
The key thing is that all the people in the video knew how to ride a normal bike. Sandlin's message here was that even though he knew how to control the altered bike, that didn't equate to having understanding of how to actually do it.
Over the course of eight months, Sandlin, who's Wikipedia page describes his occupation as 'rocket engineer and YouTube personality', slowly taught himself how to ride the backwards bike.
He still didn't find it simple, but he could pedal at a decent speed along his driveway without bailing. When he later visited Amsterdam, however, he challenged himself to see if he remembered how to ride a normal bike.
It wasn't as easy as he thought, though, with his brain still geared to turning the bars the wrong way. Twenty minutes passed before Sandlin was able to recall just how to ride properly.
Take a look at the video and try to imagine how your brain would react to riding this altered bike - and if anyone wants to have a go at making a version, we'll happily sacrifice one of our tech team to try it out.
Thank you for reading 20 articles this month* Join now for unlimited access
Enjoy your first month for just £1 / $1 / €1
*Read 5 free articles per month without a subscription
Join now for unlimited access
Try first month for just £1 / $1 / €1