How to carb load before an event or race
Carb-loading is a proven way to maximise race-day performance — here's how to get it right, says David Bradford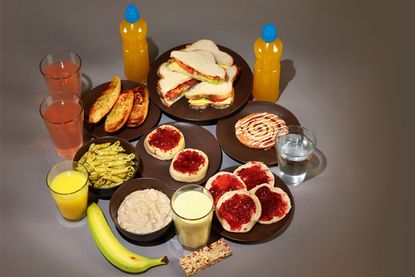 Cycling at racing intensity must be fuelled primarily by carbohydrate, and we know that the body is able to store only enough glycogen (carbohydrate in its stored form) for around 90 minutes of hard exercise — or around two hours for very lean, efficient elite athletes.
It stands to reason, then, that you'll benefit from making sure your carb stores are filled to max before you take to the start line. But how best to achieve this? Let's run through the golden rules of carb-loading.
>>> How to fuel for long distance rides
Traditionally it was believed that carb-loading was a weeklong process demanding an initial depletion phase followed by increased intake. More recent research has shown that there is no need to put yourself through such an austere or lengthy rigmarole.
"We now know that with a normal training taper and increased carb intake to around 10g/kg/day, an athlete is able to carb-load in as little as 36-48 hours pre-race," explains Trent Stellingwerff, physiologist at the Canadian Sport Institute.
>>> Back from the brink: riding again after a stroke
Ten grams of carbs per kilogram of bodyweight may seem like a gut-busting amount, but as Stellingwerff points out, "Many elite athletes routinely consume 8g/kg/day, so the increase is not dramatic." Bear in mind, some of these additional carbs can be consumed in liquid form; there's no need to chomp through bowl after bowl of porridge and pasta.
The essentials
Carb-load only when it matters: for key races longer than 75 minutes
Races of 90min-plus require on-bike fuelling
Load over 36-48hr with the correct amount: 8-10g of carbs per kg of bodyweight per day
Significant gains
How great are the performance gains you stand to make from effective carb-loading? "A thorough review conducted in 1997 found that carb-loading does not aid performance in short events, but over prolonged efforts of at least 75 minutes performance may be improved by two to three per cent," says Stellingwerff.
>>> 'Anti-doping: it's time for a rethink'
That's equivalent to gaining around one to two minutes for every hour of effort — potentially very significant in a racing context.
If undertaken inappropriately, however — for example, in preparation for races shorter than an hour in duration — carb-loading is worse than pointless.
>>> Jens Voigt: Life lessons from 30+ years of riding
"For every gram of carbohydrate stored, 3g of water are stored with it," cautions Stellingwerff, "so unless the race intensity and distance genuinely require the extra fuel from carb-loading, it'll result in you carrying a surplus, acting like ballast, only slowing you down."
Fuel right before your next event
Key points
Do: plan your carb-load
Eating sufficient carbohydrate during the 36-48 hours pre-race requires careful planning and committed eating.
Here is a sample diet for a 70kg athlete (carbs in grams):
Breakfast:
Large bowl of porridge (60g)
Large banana (25g)
Glass of orange juice (25g)
Mid-morning:
Two crumpets with jam (45g)
500ml sports drink (40g)
Lunch:
Two sandwiches (four slices of bread) with filling of your choice (50g)
Frosted cinnamon bun (35g)
Can of lemonade (25g)
Mid-afternoon:
Banana smoothie (20g)
Cereal bar (30g)
Dinner:
Large bowl of pasta with sauce (80g)
Three slices of garlic bread (50g)
Two glasses of cordial (35g)
Evening snack:
Two English muffins, toasted, with jam (70g)
500ml sports drink (40g)
Total: 630g (equivalent to 9g/kg/day)
Do: periodise your carb intake
You should not sustain a high carb intake throughout your race-preparation training block. In fact, you are likely to benefit from doing some training in a carb-depleted state, e.g. occasional pre-breakfast rides. Training 'low' has been shown to increase the body's fuel efficiency, heightening endurance potential.
>>> How to resume your training after a break
Don't: over-consume
Some athletes misinterpret carb-loading as a licence to gorge wantonly on sweet and starchy foods. There is no point eating beyond the 10g/kg/day maximum advised intake in the 48 hours prior to your target event; overeating will only cause bloating and may negatively affect performance.
Don't: bother with depletion
The old protocol of preceding carb-loading with a period of carb-depletion has been shown to be ineffective, i.e. it does not enhance your body's ability to store carbs. Restricting your carb intake so close to a race will only serve to make you feel lethargic, which at worst could deplete your mental resilience when you need it most.
Thank you for reading 10 articles this month* Join now for unlimited access
Enjoy your first month for just £1 / $1 / €1
*Read 5 free articles per month without a subscription
Join now for unlimited access
Try first month for just £1 / $1 / €1