How watching 25 years of Tour of Flanders footage is helping scientists study climate change
And they don't just watch the bike racing.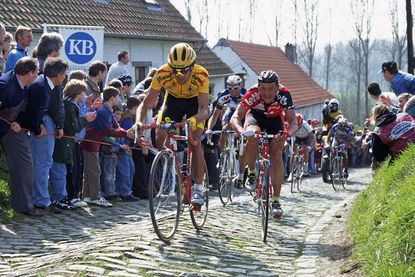 (Image credit: Yuzuru Sunada)
It might just sound like a convenient excuse to watch some retro bike racing, but scientists in Belgium are using old footage of the Tour of Flanders to help them study the effects of climate change.
Researchers at the Ghent University have been looking at the impact of climate change on trees, choosing to do this with the help of archive footage from the Tour of Flanders between 1981 and 2006.
As the race takes at the same time each year and over similar roads, the scientists are able to use the footage to study the amount of foliage on trees from one year to the next, visually estimating the amount of leaves and flowers around at the same time each April.
They then compared this data to the historic climate data for the area, showing how the changing climate has affected the amount of foliage and flowers on the trees over the 25 year period.
>>> Flanders unravelled: a cycling guide
The scientists found that before 1990, almost none of the trees on the route had any foliage on the day of the race. However this changed in the second half of the period, as more trees came into leaf as temperatures rose by an average of 1.5ºC between the wins of Hennie Kuiper in 1981 and Tom Boonen in 2006.
The study was led by Professor Pieter De Frenne from Ghent University, who said that the fact that cycling races generally took place in the same place at the same time each year meant that archive footage of races could be used to study many other aspects of nature over time.
"Our method could also be used to collect data on other aspects important for ecological or evolutionary research, such as tree health, water levels in rivers and lakes, and the spread of invasive species," said Dr Frenne.
"Only by compiling data from the past will we be able to predict the future effects of climate change on species and ecosystems"
Thank you for reading 20 articles this month* Join now for unlimited access
Enjoy your first month for just £1 / $1 / €1
*Read 5 free articles per month without a subscription
Join now for unlimited access
Try first month for just £1 / $1 / €1