HOY TO CARRY FLAG AT OLYMPICS CLOSING CEREMONY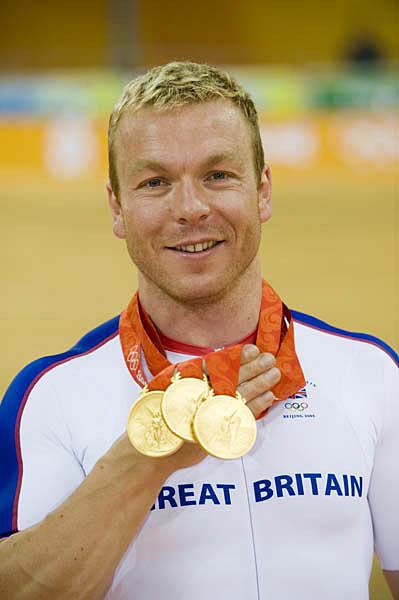 Great Britain?s single most successful medallist of the Beijing Olympics, triple gold medallist Chris Hoy, will carry the flag at the closing ceremony on Sunday.
?It?s a huge honour,? the most successful Scottish Olympian in history recognised at a final GB team press conference on Sunday morning, ?particularly when you consider the standard of the squad.?
?All of the GB team has achieved way beyond their expectations, we knew it was possible but you?ve still got to do it first.?
?As for carrying the flag, it?s going to be a once-in-a-lifetime experience, a fantastic end to an amazing few weeks.?
Great Britain?s success in Beijing means the athletes will fly home with no less than 47 medals, the best result since 1908. Cycling has contributed nearly a third of that total, with 14 medals, although GB athletes have taken medals in 11 out of 20 sports.
GB Olympic chef de mission in Beijing Simon Clegg pointed out in his closing speech that Nicole Cooke?s gold medal was Great Britain?s 200th at Olympic level and that her early victory ?helped us all stay motivated throughout the whole of the Games.?
?Rebecca Romero is the first British woman athlete ever to take an Olympic medal in two different sports, and of course Chris Hoy is Great Britain?s first triple gold medallist in an Olympics since 1908.?
Looking ahead towards 2012, Clegg pointed out that if British success was high in Beijing, the ?London factor? in four years time could push the bar even higher.
?There are nine million tickets to be sold for British people to see British athelete in British venues. That?s going to be a huge morale boost for all our teams.?
Swipe to scroll horizontally
OLYMPIC GAMES 2008: TRACK
Track day five in pictures
Track day five summary
Wiggins and Cav miss out in Madison
Gold for Hoy and Pendleton, silver for Kenny
Track day four in pictures
Preview: Day five at the Laoshan
Brad on Cav: He's like a schoolkid he's so up for it
Day four as it happened: Team pursuit gold and another world record
Day three summary: Gold for Romero. Pendleton, Hoy in charge in sprints. Kenny the revelation
From rower to cyclist: Romero takes an emotional gold
Brits smash world team pursuit record in round one
Tough day for the Dutch
Preview: Monday at the Laoshan
Day two in pictures
Sunday's action as it happened
Preview: Sunday at the Laoshan
Day two at the track: Summary of the action
Hoy and Edgar clean up in the Keirin
Wiggins gets pursuit gold, Burke wins bronze
Newton storms to bronze in points race
Saturday's action as it happened: Two gold, a silver and two bronze for Britain
Blog: Life in Laoshan
Day one in pictures
Brits blast to team sprint gold
Day one at the track: Summary of the action
Friday's action as it happened: Gold for team sprint trio; Wiggins, Houvenaghel and Romero well in control
Burke blasts to new individual pursuit PB
British track stars raring to go
What makes the Laoshan such a challenge
Picture special: CW takes you inside the Laoshan velodrome
Saturday's preview
Friday's preview
Can these legs make an Olympic champion?
Cavendish unlikely to ride individual pursuit
How many medals will Britain's riders win?
Swipe to scroll horizontally
Cooke and Thomas to get heroes' welcome in Wales
Positive test for cyclist at Olympic Games
Bettini chasing second Olympic gold
Romero poses nude for ad
British quartet eyeing new world record
As Olympics approach two new drugs emerge
Beijing Blog
Beijing Blog 2
Beijing Blog 3
Swipe to scroll horizontally
Picture special: Women's time trial
Cancellara wins men's time trial gold
Men's time trial reaction: Steve Cummings on his ride
Women's time trial reaction: I feel fantastic, says Pooley
Pooley wins silver in women's time trial
Cooke's secret was the skinsuit
What the papers say... about Nicole Cooke
Analysis: women's road race
Gold for Nicole Cooke in Women?s road race
Reaction: It?s a dream to win Gold, says Cooke
Women's Olympic road race picture special
Sanchez gives Spain gold in thrilling men?s road race
Who is Samuel Sanchez?
Tactical analysis: Reading the men?s Olympic road race
British riders suffer in hot and humid Olympic road race
Rebellin misses out on golden birthday
Brailsford confident ahead of women?s road race
Swipe to scroll horizontally
OLYMPIC GAMES 2008: GUIDE
Olympics cycling results>>
Cycling event schedule>>
Great Britain rider profiles>>
Cycling event guide>>
Photo gallery>>
Every British cycling medal ever won at the Olympic Games
From paupers to kings: The lottery funded revolution>>
Track results at the Worlds and Olympics 2004-2008
Thank you for reading 20 articles this month* Join now for unlimited access
Enjoy your first month for just £1 / $1 / €1
*Read 5 free articles per month without a subscription
Join now for unlimited access
Try first month for just £1 / $1 / €1