HOY TO TAKE ON FRENCH CHALLENGE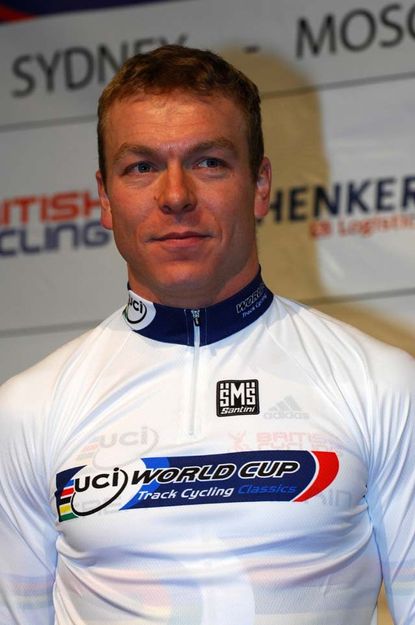 The Manchester Velodrome enjoyed a full house on Saturday January 12 as the Revolution cycling event sold out for the second time in its history. 4,000 spectators crammed into the Velodrome for a fantastic evening?s racing with Britain?s Jason Kenny and World Sprint Champion Theo Bos dominating the sprinting.
One of the stars missing from the line up was Chris Hoy who had been forced to pull out from the event due to illness. Hoy had abandoned the Rotterdam six earlier in the week and was unable to recover for the Revolution event,
?I came down with a fever at Rotterdam which hit me hard,? he commented. ?I hoped that it was just a case of resting and waiting a few days but the doctor advised that I couldn?t do anything for four or five days.?
?It was hugely disappointing to miss the Revolution,? he continued. ?I haven?t raced at the event for a long time so I was really looking forward to it. I?m even more gutted as it sounds like it was a fantastic event.?
Hoy will get another chance to race in front of his home crowd though with the final event of the series taking place on February 23. This time the Brits will face an even stronger sprint challenge, this time from the French.
Team Sprint World Champions Arnaud Tournant and Gregory Bauge will be joined by rising French star Mickael D?Almeida in a crucial showdown with the powerful British squad. As the last competitive event before the Manchester World Championships the contest will provide and important test for both nations,
?The French are the team to beat at the moment,? commented Hoy. ?They have been World Champions for the last two years so any opportunity to race against them and find a chink in their armour is very important. It will also be the last chance before the worlds so it will be a very serious event for us.?
Hoy will be joined by a strong British line up including Jamie Staff, Craig MacLean, Ross Edgar, Junior World Champions Christian Lyte and Dave Daniell and the in form Jason Kenny.
Tickets and information for the event on February 23 can be found on www.cyclingrevolution.com or by calling 0845 686 0105 or 0161 223 2244.
Thank you for reading 20 articles this month* Join now for unlimited access
Enjoy your first month for just £1 / $1 / €1
*Read 5 free articles per month without a subscription
Join now for unlimited access
Try first month for just £1 / $1 / €1