IBBOTSON FUND PRESENTS FISH & HITS NIGHT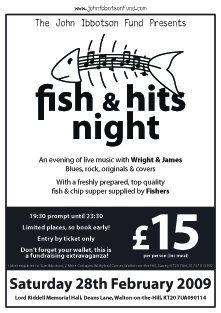 The John Ibbotson fund is holding its second Fish and Hits night on February 28th in order to raise money for aspiring young British cyclists.
The evening's entertainment kicks off at 19.30 with live music from Wright & James who will be supplying a mixture of blues, rock, covers and original songs to entertain the crowd.
A freshly prepared fish and chip supper will be served and fundraising interludes will occur during the evening to raise further money for the fund.
Tickets cost £15, and with limited places available it's first come first served.
The John Ibbotson fund was set up in memory of the former professional who died suddenly in 2005 of an undiagnosed heart condition, he was just 27. In 2008 Matt Green and Tom Copeland were placed in foreign teams by the fund and assisted in developing their careers.
This year Tom Copeland will again be supported as will Daniel Patton who is riding for the Swedish Cyclesport.se team that is backed by Garmin rider Magnus Backstedt.
The night of live music and food takes place on Saturday February 28th at the Lord Riddell Memorial hall in Walton on the hill, near Tadworth. For more information contact Sue Ibbotson on 01737 8138923
RELATED LINKS
Cardiac risk in the young

EXTERNAL LINKS
John Ibbotson fund
CRY