Inside Lance's mansion: Six-bedroom home of Lance Armstrong on the market for $7.5 million (photos)
There's one very unusual kitchen utensil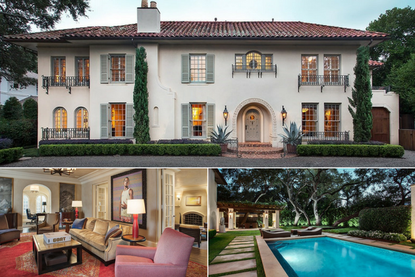 If you're in the market for a palatial mansion close to the centre of Austin, Texas with previous owners including a former professional cyclist with seven Tour de France "wins" wiped from his name, then we've got just the property for you...
That's because the house of none other than Lance Armstrong has been put onto the market for $7.5 million (£5.3 million), a pretty reasonable price when you consider that he first attempted to sell it in 2016 for $8.25 million.
Built in 1924, the six-bedroom house is located in one of the most affluent areas of the Texas state capital, and is described by the estate agent on the listing (opens in new tab) as "a fantastic blend of original charm, modern amenities and timeless design".
>>> Lance Armstrong and US Postal team-mates race to 86th place in 24-hour mountain bike event
As you would expect for such a property, the house includes nearly half an acre of ground including a sizeable swimming pool. There is also a good-sized and, by the looks of the photos below, well-stocked wine cellar, while the kitchen features one interesting piece of equipment located above the oven...
The main bedroom suite also features separate his and hers bathrooms, while the backyard also includes a pool house with bathroom and kitchenette.
The security is also good, with the house being described as being situated in a "gated estate is meticulously landscaped for privacy".
>>> Bradley Wiggins's luxury motorhome sells at auction for nearly £50,000
Armstrong moved into the house in 2013 after selling a 1.7-acre estate in the Camp Mabry area of Austin and another large property in the Lake Austin area to the north-west of the city in 2013.
Since the extent of his doping was revealed in 2012, Armstrong has been fighting a number of legal cases including a $100 million lawsuit brought by the US Department of Justice and Armstrong's former team-mate Floyd Landis.
The trial for that case is due to take place in May, with Armstrong accused of having defrauded the government out of funds as he and other members of the US Postal team used performance-enhancing drugs.
Exterior of the six-bedroom property
The hallway is certainly impressive
The main sitting room on the ground floor
The principal dining area
Kitchen with an interesting utensil above the oven
The current owner likes his art
Another of the mansion's five living rooms
The master bedroom offers plenty of space
Office space means you can work on legal cases from home
One of the property's 7.5 bathrooms
Well-stocked wine cellar
Sizeable pool in the backyard
Plenty of space to relax by the pool
Thank you for reading 5 articles this month* Join now for unlimited access
Enjoy your first month for just £1 / $1 / €1
*Read 5 free articles per month without a subscription
Join now for unlimited access
Try first month for just £1 / $1 / €1