Lance Armstrong and US Postal team-mates race to 86th place in 24-hour mountain bike event
Armstrong, Hincapie, and Casey joined by Julia Polloreno for 24 Hours in the Old Pueblo event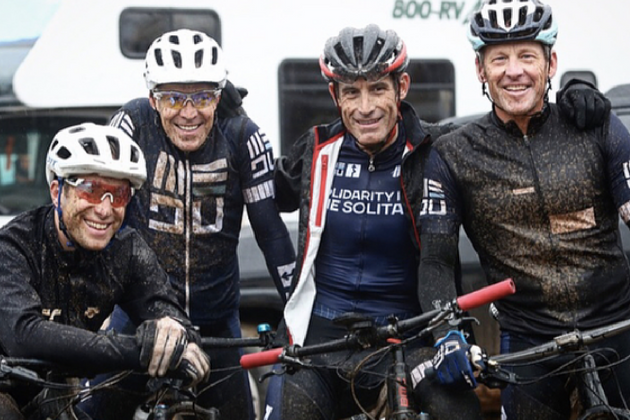 (Image credit: Lance Armstrong/Instagram)
Lance Armstrong and two former US Postal team-mates were back racing again this weekend, finishing in 86th place in a 24-hour mountain bike event in the USA.
Armstrong teamed up with George Hincapie and Dylan Casey for the 24 Hours in the Old Pueblo, with a fourth former US Postal rider Christian Vande Velde being replaced by triathlete Julia Polloreno after Vande Velde fell ill.
Armstrong, Hincapie, Casey, and Vandevelde finished third in the event in 2017, but the team seemed to take things a little less seriously this time round, finishing in 86th place in the four-man team competition. Official results show that Armstrong's third lap of the 16 mile race taking 12 hours, suggesting that they all enjoyed a bit of sleep (and probably a few beers too).
The event was one by the "Average Joey's" team, who completed 22 laps of the 16 mile off-road circuit, 30 miles north of Tucson, Arizona, double the tally of Armstrong and co.'s WEDU.TEAM, averaging a seriously impressive 18mph on the hilly course and tough terrain.
>>> UCI president says he'll boycott the tour of Flanders over Lance Armstrong invitation
Armstrong is currently serving a lifetime ban from cycling, but this only applies to event sanctioned by the UCI and national governing bodies. The 24 Hours of Old Pueblo is an independently run event, and is not sanctioned by USA Cycling, leaving Armstrong free to compete.
As well as racing mountain bike endurance events, Armstrong is also currently fighting a legal case brought by the US Justice Department and Floyd Landis, another former US Postal team-mate.
The lawsuit alleges that Armstrong misused federal funds when taking performance-enhancing drugs while riding for a team sponsored by the US Postal Service.
The case had originally been scheduled to go before a jury in November, but ongoing legal wrangling has meant that it has now been delayed until May. If he loses the case, Armstrong will be liable to pay $100million.