UCI president says he'll boycott the Tour of Flanders over Lance Armstrong invitation
Race organisers have invited American as a guest for the race.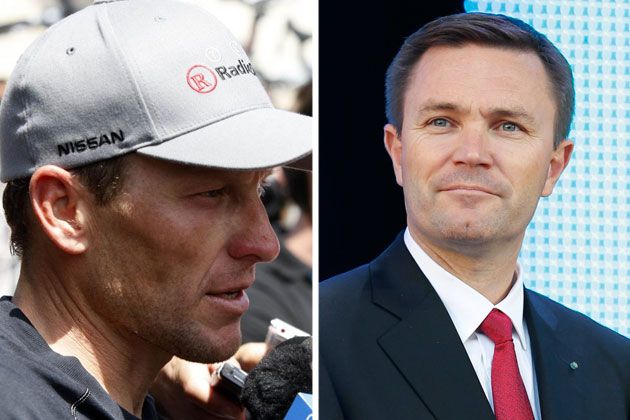 (Image credit: Yuzuru Sunada)
UCI president David Lappartient has said that he will not attend the 2018 edition of the Tour of Flanders in a protest over the race organiser's decision to invite Lance Armstrong to speak at a pre-race event.
Armstrong is due to speak at the inaugural Tour of Flanders Business academy just two days ahead of the race before being a guest of organiser Wouter Vandenhaute at the race itself, a move that had been described as "sending totally the wrong signals" by Flemish sports minister Philippe Muyters and has also been criticised by Lappartient.
>>> UCI president hopes for breakthrough in Chris Froome case before Giro d'Italia
Now, the UCI president says that he will not be attending the Tour of Flanders, and had spoken with Vandenhaute about the situation.
"He [Armstrong] not authorised to be in a race car since he is suspended for life," Lappartient told Belgian newspaper Het Nieuwsblad. "I'm not happy with this situation and have made it known to Wouter Vandenhaute.
"I will not attend the Ronde. I'll go to one race or another in Belgium at the start of the season, but I don't know which one yet."
Lapparetient has also said that he has written to Armstrong asking him not to attend any events around the race, which could include him riding the sportive on the day before the professional race.
>>> It would be easier for everyone if Team Sky suspended Froome, says UCI boss
However the Frenchman admitted that there was little he could do to prevent Armstrong from engaging in activities not covered by his life ban from cycling.
""I can't confiscate the American's passport and prevent him from coming to Belgium," Lappartient continued.
"I understand that he could be invited as a conference speaker, and he will obviously attract a lot of attention, but this is not the image that we want to send out from cycling. We want to promote a clean sport, and Armstrong is not the symbol of that."