'Lance Armstrong's invitation to the Tour of Flanders is absolutely reprehensible'
The news that Lance Armstrong has been invited to speak at an event before the 2018 Tour of Flanders has been met with criticism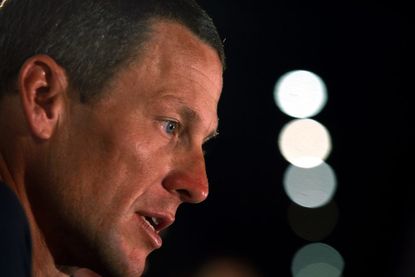 (Image credit: Yuzuru Sunada)
Lance Armstrong's special guest status at the 2018 Tour of Flanders "is absolutely reprehensible" due to his doping history and lack of remorse, say those involved in sport in Belgium.
Armstrong's appearance at an associated speaking engagement two days before the race on March 30 brought mixed reactions when it was announced on Thursday.
The Texan won seven Tour de France titles before authorities showed that he doped for most of his career. His victories since 2012 were stripped, and he is now serving a life-time ban.
"The Armstrong invitation is absolutely reprehensible," said Peter Van Eenoo, head of the Ghent anti-doping laboratory told Sporza. "Armstrong has been suspended for life and has not expressed any kind of regret for what he has done in the past.
"What does it mean to racers who have been cheated and robbed by the Texan and his associates? At stake there is not only the past, but above all the future of cycling."
"It's a marketing stunt," Flemish Sports Minister Philippe Muyters explained. "You created an event for a doping sinner and that is a totally wrong signal for the clean athletes.
"I would love to listen to a strong story by Lance Armstrong, but that could have happened at another time, not linked to a race. It shines a negative light on the Ronde and that bothers me."
>>> Tour of Flanders organiser invites Lance Armstrong to speak at pre-race event
There is no guarantee that Armstrong will appear. Under fire, Armstrong and the Colorado Classic organiser backed out of a deal for him to air his podcast alongside the race in August.
Flanders Classics organisational head Wouter Vanderhaute invited Armstrong to the inaugural Tour of Flanders Business Academy on Friday, March 30. Vanderhaute said the "great champion" is welcome and "we need to come to terms with our past."
Armstrong's former colleagues and current Belgian cyclists supported the move by Flanders Classics.
"It's time to turn that page. It's a beautiful gesture," said former cyclist and Armstrong's team manager, Johan Bruyneel told Het Nieuwsblad. Bruyneel is also serving a ban. "Of course, I'm not completely unbiased in this!"
"Lance has been banned from cycling for long enough," said Armstrong's former director Dirk Demol. "Why should that be a bad thing for cycling? It is hypocritical to burden him with all sins."
"For me he is certainly welcome," Belgian Champion Oliver Naesen (Ag2r La Mondiale) said. "The American has been written off by everyone, but I think he is over-punished. All the others from that time who just did the same just walk around in the Tour de France, why is Armstrong then persona non grata?"
Thank you for reading 10 articles this month* Join now for unlimited access
Enjoy your first month for just £1 / $1 / €1
*Read 5 free articles per month without a subscription
Join now for unlimited access
Try first month for just £1 / $1 / €1