Tour of Flanders organiser invites Lance Armstrong to speak at pre-race event
The disgraced former rider will speak at the inaugural Tour of Flanders Business Academy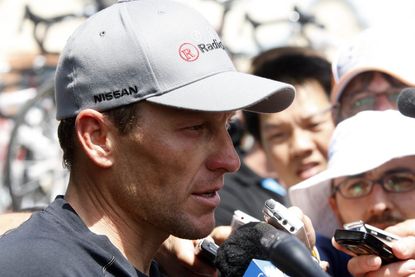 (Image credit: Yuzuru Sunada)
The Tour of Flanders organiser is bringing the most controversial drug-cheat in cycling Lance Armstrong to its race in the spring of 2018.
Flanders Classics opened its door to Armstrong, who won seven Tour de France titles before being stripped of them after a career of doping. It will welcome him to its inaugural Tour of Flanders Business Academy on Friday, March 30, just two days before the professionals race.
>>> Lance Armstrong allowed to use 'everyone was doping' as defence in $100m fraud trial
"With the 'Tour of Flanders Business Academy', we aim to invite a top-class speaker to Flanders each year," said Wouter Vanderhaute, head of the organisation.
"This can be someone from the world of cycling, but could just as easily be a representative of another sport or another aspect of our society.
"The very first speaker we have invited is Lance Armstrong. Lance Armstrong is delighted to be visiting Flanders to tell his story and experience his favourite one-day race live. To him, this will also be a return to cycling and, as far as I am concerned, he is very welcome!"
Armstrong has backed down or had invitations cancelled in recent years. He was due to host his popular podcast at the Colorado Classic this summer, but the organiser cancelled under pressure.
Another speaking engagement in 2016, the One Zero conference in Dublin , was cancelled too.
Vanderhaute intends differently by welcoming the "great champion" to Belgium.
"Lance Armstrong is and remains a great champion. I have felt for many years now that he was above all punished for his arrogance. I met Lance Armstrong in Washington last October and found him to be a chastened man who has made peace with his fate," Vanderhaute continued.
"Of course, we in the cycling sport need to continue making every effort to combat doping, but we also need to come to terms with our past.
"I think it's good that we continue to honour champions like Laurent Jalabert and Richard Virenque, so why shouldn't we welcome Lance Armstrong and Jan Ullrich back into our big cycling family as well?"
Armstrong, now 46-years-old, received a lifetime ban from sports in 2012 after the US Anti-Doping Agency (USADA) showed he doped through most of his career. Officials stripped him of his titles soon after.
"I'm super excited to come to next year's Tour of Flanders," Armstrong said in a video message today.
"Not that I did very well in it, but it was always of my favourite races. You have the hills of Liège-Bastogne-Liège, the cobbles of Paris-Roubaix, you combined in one race, and I tell people all the time that's what makes it one of the special spring Classics races of the calendar.
"I can't wait to see you guys. I'm looking forward to talking to you guys about cycling and my experiences openly, honestly and transparently."
Three-time Flanders winner Johan Museeuw, who now works at Flanders Classics events, welcomes the chance to meet with Armstrong again.
"Lance has confessed and is punished," Museeuw told Het Nieuwsblad newspaper. "Should he never be present at a cycling race again? I do not think so.
"Lance is a former colleague of mine and I am looking forward to working with him. I will be one of the companions during that cycling tour on 30 March and I do not see anything wrong with him being invited.
"Our generation was wrong and Lance made a confession, as I did, but should you never be present at a cycling race again? If that's the case then many people from cycling would no longer be present. Look, he will be guest of honour, not being appointed a team sports director or manager of Flanders."
Thank you for reading 20 articles this month* Join now for unlimited access
Enjoy your first month for just £1 / $1 / €1
*Read 5 free articles per month without a subscription
Join now for unlimited access
Try first month for just £1 / $1 / €1