UCI president hopes for breakthrough in Chris Froome case before Giro d'Italia
David Lappartient wants to see case resolved quickly, but emphasises the right of Froome to mount a proper defence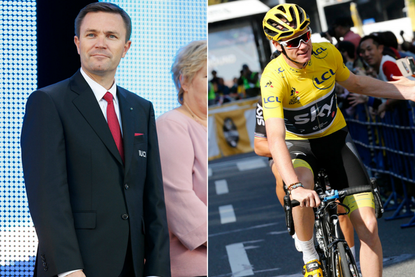 (Image credit: Yuzuru Sunada)
UCI president David Lappartient says that he hopes that the anti-doping investigation into Chris Froome will be concluded - one way or another - before the start of the Giro d'Italia in May.
Froome is currently under investigation after delivering an adverse analytical finding for salbutamol at the 2017 Vuelta a España, and due to the nature of the substance is not subject to a provisional suspension meaning that he could take to the start line of the Giro d'Italia in Jerusalem on May 6 with the investigation still ongoing.
The four-time Tour de France winner has denied breaking anti-doping rules which allow athletes to take a maximum of 800mg of salbutamol per 12 hours and, with Team Sky's backing, has vowed to clear his name. However for Lappartient the issue is to have the case resolved fairly, and ideally before the Giro d'Italia.
>>> Everything you need to know about Chris Froome's salbutamol case
"I hope so," was the UCI president's response when asked by Swiss newspaper Neue Zürcher Zeitung if the case would be resolved before May 6. "The case is very bad for cycling. He is the most famous rider we have.
"Froome is not a rider like any other. He has more money. He can find more experts who can speak for his case. He can submit more exculpatory documents.
"We cannot simply wipe these statements off the table. It is important to solve the case quickly, but also to protect the rights of the rider."
Watch: Giro d'Italia 2018 route guide
http://www.youtube.com/watch?v=WWVoFpEyh_I
Froome has continued his preparation for the 2018 season as normal despite the ongoing investigation, attending a Team Sky training camp in Mallorca as well as putting in some long training rides in South Africa.
Meanwhile lawyers and medical experts have been working to prepare Froome's defence in the investigation, with reports saying that they will argue that a kidney problem was to blame for Froome being found to have twice the permitted concentration of the asthma drug salbutamol in his system in a urine test taken after stage 17 of the Vuelta a España.
>>> Team Sky 'will implode' if Chris Froome get banned, says Floyd Landis
Lappartient also commented on the reactions of other riders to the Froome case, in particular Tony Martin, who received a "clarification" phone call from the UCI after he accused the sport's governing body of "double standards".
"I recognize the right of riders to express their opinions," Lappartient continued. "They are worried and want a clean sport. It's good.
"But there is no special treatment for Froome. We have explained that to Martin. He's a clever guy and has realised that he may have made a mistake."
Thank you for reading 20 articles this month* Join now for unlimited access
Enjoy your first month for just £1 / $1 / €1
*Read 5 free articles per month without a subscription
Join now for unlimited access
Try first month for just £1 / $1 / €1