Tony Martin 'totally angry' at 'double standards' in Chris Froome salbutamol case
German Katusha-Alpecin pro rider Tony Martin says that the way in which Chris Froome's Vuelta a España adverse analytical finding has been dealt with is 'unprofessional and unfair'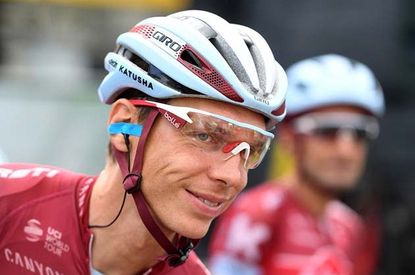 (Image credit: Andy Jones)
Tony Martin has said that he is 'totally angry' that Chris Froome and Team Sky appear to have been given favourable treatment over Froome's adverse analytical finding for salbutamol at the 2017 Vuelta a España.
Publishing a strongly-worded statement on his personal Facebook account, German Katusha-Alpecin rider Martin said that a 'double standard' has been applied to Froome and that he should not have been allowed to ride at the 2017 World Championships.
>>> Chris Froome could face ban after abnormal drugs test result during Vuelta a España
"I am totally angry," wrote Martin. "There is definitely a double standard being applied in the Christopher Froome case.
"Other athletes are suspended immediately after a positive test. He and his team are given time by the UCI to explain it all. I do not know of any similar case in the recent past. That is a scandal, and he should at least not have been allowed to appear in the World Championships.
"Not only the public but also I have immediately the impression that there is wheeling and dealing going on behind the scenes, agreements are being made and ways are being sought as to how to get out of this case. Do he and his team enjoy a special status?
"These actions are major blow to the difficult anti-doping fight, which I am leading with riders like Marcel Kittel. We need a consequent and transparent approach by the UCI. What is going on here is inconsequent, not transparent, unprofessional and unfair."
>>> Everything you need to know about Chris Froome's salbutamol case
An anti-doping urine sample taken from Froome after stage 18 of the Vuelta a España on September 7 was found to contain double the allowed concentration of asthma drug salbutamol. Froome went on to win the Vuelta overall after also winning his fourth Tour de France in July.
Froome and Team Sky were reportedly notified of the test result on September 20 – the day of the men's elite time trial at the 2017 World Championships in Bergen, Norway, in which Froome placed third.
In accordance with UCI anti-doping rules, Froome has not been provisionally suspended from competition while the salbutamol case is being investigated.
Froome and Sky are currently gathering evidence to support their assertion that they followed rules on how much of the drug Froome took, and that his salbutamol urine level was raised due to dehydration and other factors.
Sky said in a statement: "A wide range of factors can affect the concentrations, including the interaction of salbutamol with food or other medications, dehydration and the timing of salbutamol usage before the test."
Thank you for reading 20 articles this month* Join now for unlimited access
Enjoy your first month for just £1 / $1 / €1
*Read 5 free articles per month without a subscription
Join now for unlimited access
Try first month for just £1 / $1 / €1