Chris Froome could face ban after abnormal drugs test result during Vuelta a España
Chris Froome is potentially facing a ban from the sport after he returned an adverse analytic finding at this year's Vuelta a España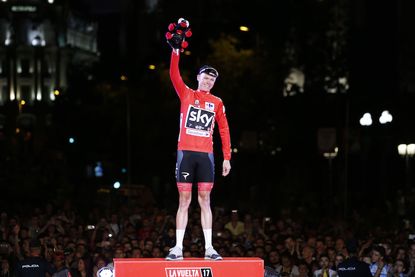 (Image credit: Yuzuru SUNADA)
Four-time Tour de France champion Chris Froome could receive a ban from the sport after it was revealed he returned an abnormal drugs test during his victory in this year's Vuelta a España.
The British rider became the first man since 1978 to win the Tour and Vuelta in one single year, but he is facing the prospect of having his win in the Spanish Grand Tour revoked.
That is because on stage 18 of the race, there was 2,000 nanograms per millilitre (ng/ml) of Salbutamol in Froome's urine sample, double the permitted amount allowed by World Anti-Doping Authority (WADA).
Salbutamol, which doesn't require a therapeutic use exemption (TUE), is taken to treat asthma which Froome suffers from. Team Sky have said that the 32-year-old "experienced acute asthma symptoms" during the final week of the Vuelta, and on advice of a team doctor he used an increased – but still within permissible dose – of Salbutamol. The drug relaxes the muscles cells in the bronchial airways.
However, the test findings, which Sky and Froome have known about since September 20, the same day he won bronze in the World Championships time trial, does not mean any rules have been broken; instead, Froome now has to explain to the UCI anti-doping body why his blood contained increased amounts of Salbutamol.
There is a precedence for riders being banned due to high amounts of Salbutmaol: in 2007, Alessandro Petacchi was given a 12-month ban for recording 1,320 ng/ml, and fellow Italian Diego Ulissi was handed a nine month ban for having 1,900 ng/ml in his body during the 2014 Giro d'Italia. Both riders had less than Froome.
Any such ban would invalidate his Vuelta win and potentially thwart his attempts at winning 2018's Giro d'Italia and Tour de France.
Team Sky have stressed that Froome did not return adverse analytic findings in any other stage of the race and repeated that he has suffered from asthma since childhood.
Froome himself commented: "It is well known that I have asthma and I know exactly what the rules are. I use an inhaler to manage my symptoms (always within the permissible limits) and I know for sure that I will be tested every day I wear the race leader's jersey.
"My asthma got worse at the Vuelta so I followed the team doctor's advice to increase my Salbutamol dosage. As always, I took the greatest care to ensure that I did not use more than the permissible dose.
"I take my leadership position in my sport very seriously. The UCI is absolutely right to examine test results and, together with the team, I will provide whatever information it requires."
Sir Dave Brailsford, who has endured a wretched past 14 months as team principal with investigations centering around the team's use of TUEs and 'jiffy-gate', said: "We're committed to establishing the facts and understanding exactly what happened on this occasion.
"I have the utmost confidence that Chris followed the medical guidance in managing his asthma symptoms, staying within the permissible dose for Salbutamol. Of course, we will do whatever we can to help address these questions."
The Guardian is reporting that lawyers and scientists for Team Sky are examining the findings.
Thank you for reading 20 articles this month* Join now for unlimited access
Enjoy your first month for just £1 / $1 / €1
*Read 5 free articles per month without a subscription
Join now for unlimited access
Try first month for just £1 / $1 / €1