Petacchi banned for Salbutamol positive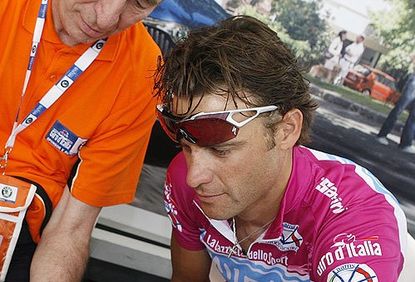 The Court of Arbitration for Sport has suspended Alessandro Petacchi for doping.
The Italian sprinter tested positive for Salbutamol during the 2007 Giro d'Italia. He has a Therapeutic Use Exemption certificate to take the drug via an inhaler because he suffers from asthma but the level of Salbutamol discovered was 320mg/ml above the 1000mg/ml limit allowed by his TUE.
Petacchi was cleared by the Italian Cycling Federation last August but the Italian Olympic Committee anti-doping investigators appealed and the CAS over turned the sentence and banned him for a 12 months.
In reality Petacchi will be able to race from August 31 because the judges ruled that the ban would be calculated from November 1, 2007 and the time Petacchi was suspended by his team last summer will also be included.
The CAS also stripped Petacchi of his five 2007 Giro stage wins and all the prize money he won during the race.
Petacchi had already pulled out of the Giro d?Italia, officially due to bronchitis. Following the CAS verdict, which cannot be challenged, he will also miss the Tour de France and his season is virtually over.
Thank you for reading 20 articles this month* Join now for unlimited access
Enjoy your first month for just £1 / $1 / €1
*Read 5 free articles per month without a subscription
Join now for unlimited access
Try first month for just £1 / $1 / €1